Helloooo
I have some problems with the connection to wireguard within my network at the moment and have been fighting against it for about three days.
I have an OpenWrt router, which is the main connection to the Internet. I have set up 2 vlans - one for guests and other things and the second vlan for personal use.
In the sec vlan there is only one port and one WLAN available, which is for a server with proxmox (port) and other devices(WLAN). A VM of proxmox is an OPNsense firewall. I have set it up a WireGuard server in OPNsense. From outside the network I can easily connect to this server and reach all other VMs/LANs. No problems there.
Since I only have physical access to OPNsense, I also want to access the OPNsense server in my OpenWrt network only with WireGuard. And unfortunately this does not work.
I think I need to redirect the vpn.domain.com to the IP or something. Which would be the OpenWrt WAN IP. But I'm not 100% sure.
Here is a kind of networkmap of it. It lists atm a connection from vlan2 to OPNsense-LAN. Which I also tried. But I prefer to use the VPN solution.
I hope that I can get help to finally solve this mystery.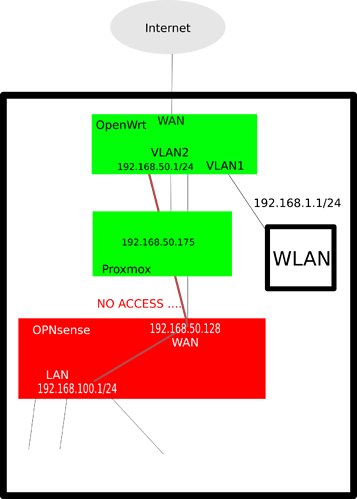 Thanks
Dan