Hello
I am trying to get a wireguard server working on an openwrt AP but I can't figure out what I am doing wrong.
I've got the following configurations:
Server: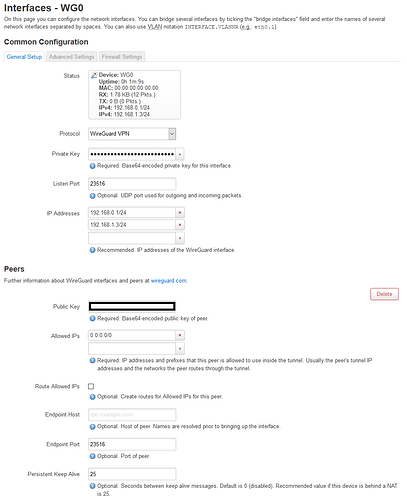 TunSafe client config:
[Interface]
PrivateKey = <Client's private key>
DNS = 192.168.0.1
Address = 192.168.0.2/24
[Peer]
PublicKey = <Server's public key>
AllowedIPs = 0.0.0.0/0
Endpoint = :23516
PersistentKeepalive = 25
Network diagram:

I forwarded the port on the ISP equipment on both sides.
From openwrt I can see that the server is receiving the handshake requests but nothing is sent back.
Does anyone know what is wrong with this setup ?