Hi friends, I cannot give up on the idea that wireguard cannot work on windows 7 x64, I use a GL.inet AR750S ext device in cascade to my vodafone station router. with OpenWrt firmware 18.06.1. The configuration of my WG server is as follows: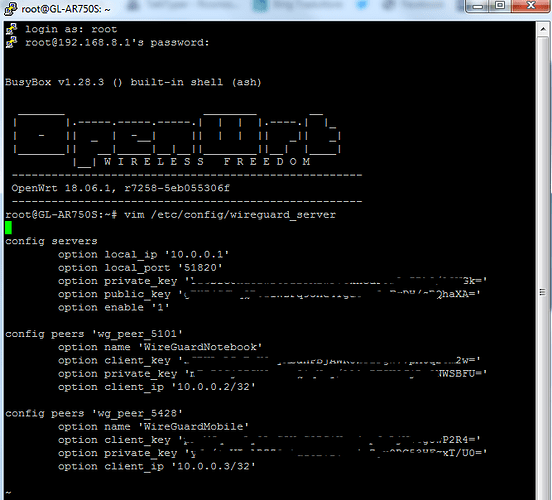 The wireguard client on windows 7 x64 is the following:
I can't understand why once the wireguard network is activated on my client shortly after a few minutes the network goes into lockout, the only way to restart it is to DISABLE and REACTIVATE the wireguard network.
Anyone know how to recommend some parameter to configure on LIGHTS to ensure that the connection does not go into block?
On my vodafone station I opened the UDP 51820 port while on the AR750S device there is something that I have to configure under the STATIC ROUTES item from the moment I use a static configuration without DHCP?
STATIC IPV4 ROUTES
Vodafone Station : 192.168.1.1
Gateway Vodafone Station 192.168.1.1
AR750S ext : 192.168.8.1
Gateway AR750S : 192.168.8.1
IP WAN : 192.168.1.24
IP LAN: 192.168.8.8