Kia Ora,
Trying to use DSA on latest snapshot and my ISP requires the following VLAN config:
WAN Connection Type: DHCP (Automatic IP/Dynamic IP/IP over Ethernet)
802.1Q: Enabled
VLAN ID (802.1Q): 10
802.1P (Priority): 0
IP Version: IPv4 or IPv6
MTU Size: 1492 or 1500
NAT: Enabled
I have tried and tried using both the updated LuCI or directly editing the config but I usually have to reset the router anytime I touch any of the lan ports.
On adjusting the wan either i get a non-functional bridge or 'device not found'.
Edit: I just want to make a working connection, I'll worry about additional VLANs afterward
This is my current swconfig: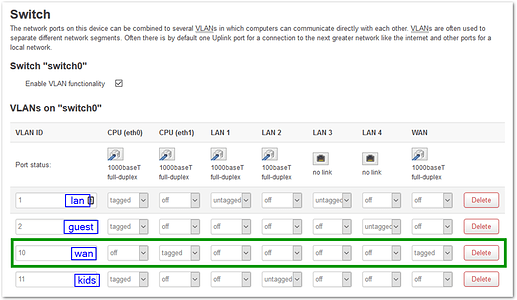 NB: forgive the labels as this is from my notes
Cheers in advance.