Hi,
I'm trying to configure some kind of weird network setup and I'd like to get suggestions whether this is possible at all and -if so- how...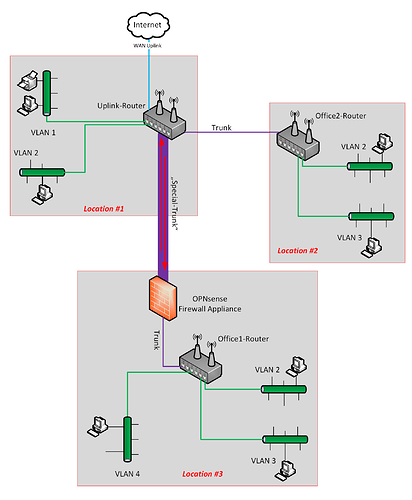 My Problem can be described as follows:
I have some VLAN capable OpenWRT Routers with Wifi (e.g. TP-Link AC1750 Archer C7). These are located in different "buildings" (Location

#1

..

#3

in my picture).
I need multiple different VLANs that are (kind of) arbitrary distributed through the locations
I have a (VLAN capable) Firewall Appliance (based on OPNsense) which should do routing and firewalling
a) From/To WAN and all internal VLANs
b) Among the VLANs
Location#2 and Location

#3

both have a single cable connection to Location

#1

(the purple ones in my image)
Any VLAN itself must appear as a single network (= broadcast domain) - no matter where the endpoints are physically located. In other words: VLAN2 is (from an endpoint device point of view) identic to VLAN2 in another location.
The challenge:
I'd really like to manage all my firewalling on OPNsense (there will be frequent changes and maintenance should be kept a) as simple as possible and b) at a single point. That leads to the following problem, that I tried to paint with the red arrows in my "Special-Trunk":
Any traffic from WAN should pass the Uplink Router, be "forwarded" to the firewall and then be "distributed" to the appropriate VLAN. The same way backwards should be followed for the opposite direction (VLAN x to WAN).
Any traffic from a VLAN that is addressed to another VLAN must be firewalled/routed, too.
The problem where I'm currently stumbling is, that the Uplink-Router should not directly e.g. VLAN 1 from Location #1 and VLAN 2 from Location #2, but that seems to happen when setting up the managed switch and configuring the tagged / untagged ports for the network links...
Any suggestions? Further questions?
Thanks in advance,
Bart Simpson