Hello,
I'm looking to set up a DMZ on my home network to expose a VM or VMs on a server to the internet but maintain isolation from the rest of my home network. My questions are around how to set up VLANs to achieve this with my current network and what I might need to add.
I use a powerline system to get connections to various parts of my house which is where the complications come in. My router is a Pi4 running OpenWRT and internet access is through a USB 4G dongle. The rest of the network is connected through powerline adaptors. What I'm not sure of is when I will need seperate physical ethernet interfaces and where to allow me to set up VLANs? The diagram attached is roughly what I want to achieve and mostly shows the physical network setup as it is now minus the switch as the server is currently connected directly to the powerline adaptor. I will configure the server so that services I want exposed internally and externally are on different ethernet ports.
I have a single 4 port managed switch available and can get hold of another one, also if a different "physical" connection is needed for the VLANs I could get hold of more powerline adaptors.
I can find tutorials for setting up the DMZ.VLANs so am happy with doing that but can anyone explain how I should configure this physically and locigally to make it work?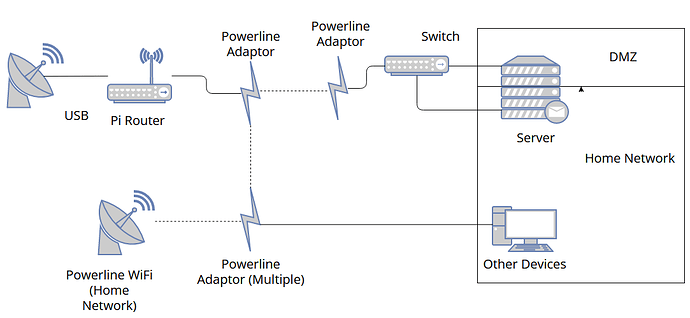 (Edit: I should also add that there are a couple of powerline adaptors that handle Wifi as well)
Cheers,
David