It's usually bad to mix tagged & untagged traffic on the same port, but mixing traffic across multiple ports on the same VLAN should be fine, right?
Apologies for posting three images as one: new users cannot post multiple images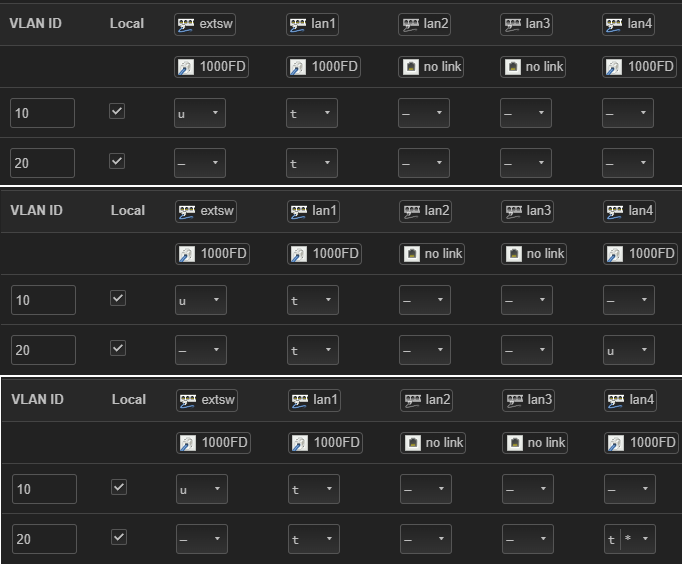 The first VLAN Bridge Filtering configuration works properly. Lan1 provides connectivity to multiple switches across a Devolo powerline, and those switches separate out VLAN traffic correctly. Note that vlan10 is untagged on extsw, and this functions as expected (see below).

But when I try to connect a machine directly to lan4 on vlan20 (middle image), although that machine has untagged connectivity, it breaks tagged connectivity to vlan20 on lan1.

The only workaround I've found (third image) is to set lan4 as a tagged port and the primary vlan ID, but I don't think this is satisfactory because it effectively mixes tagged and untagged traffic on the same port, which we already know is bad.
This is an Asus RT-AC88U (HW: ?) running 22.03.02, because there's currently an issue with the latest versions. The AC88U has 8 ports of which WAN + 1-4 are Broadcom and 5-8 are Realtek (extsw); this may be relevant.
The Realtek switch seems to accept both tagged and untagged ports over the same VLAN but the four ports cannot be separated; the Broadcom switch allows for individual configuration but seems to have issues with this kind of mixed mode.
I'm a recent convert from DD-WRT and previously had issues getting VLANs to work as a single subnet over both wired and wireless, which was blamed on Broadcom. I suspect there is an issue here with the Broadcom (closed source?) drivers.
Is this likely to be Broadcom related?
Are there any known workarounds?
Am I right not to want to allow tagged and untagged traffic on lan4?