Hello,
I am working on "PCTV-Broadway".
The device is a DVB-Receiver. Unfortunately, I can not find any driver for USB-DVB-Receiver in the SDK.
I have times a document from the SDK of PCTV attached.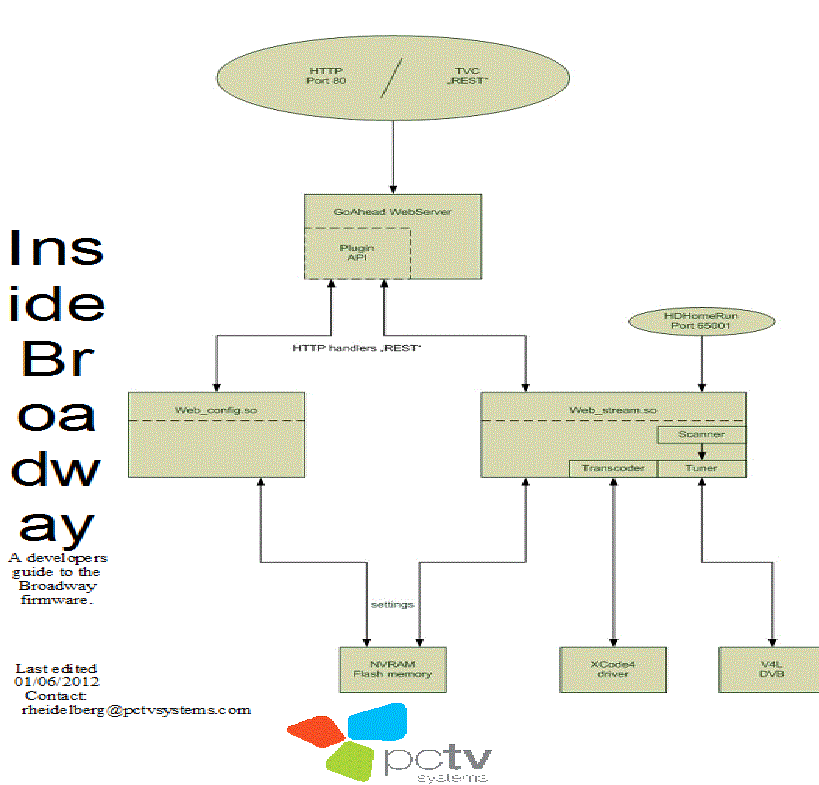 The drivers are actually contained in the kernel.
How can I integrate the necessary drivers into the LEDE sources?
Hardware (Info from inside Broadway, PCTV-SDK):
Hardware platform
Broadway is a so-called SoC (system on chip) platform with some extensions.
The main hardware components are:
• 384 MHz MIPS CPU (Ralink RT3052)
• 8 MB NVRAM (Flash)
◦ 192 KB bootloader (U-Boot)
◦ 64 KB Ralink config (e.g. wifi connection, static IPs)
◦ 64 KB factory (e.g. wifi calibration, hardware id)
◦ 7744 KB firmware image (LZMA packed)
◦ 128 KB PCTV settings (e.g. channel lists)
• 64 MB RAM
• 7-port USB hub
external ST11 (back left connector)
external ST10 (back right connector)
internal Xcode (ViXS XC4105 based transcoding board - aka Hollywood)
internal Exeter (Conexant-based ATSC/NTSC hybrid tuner board)
external ST9 (front connector)
internal NovaTD (Dibcom-based dual DVB-T tuner stick)
internal not connected
• 10/100 Mbit/s Ethernet
• WLAN 802.11 b/g/n
• A/V-input with Micronas AVF4910B decoder
I am not a Developer! This all is new for me.
Thanks, Igel