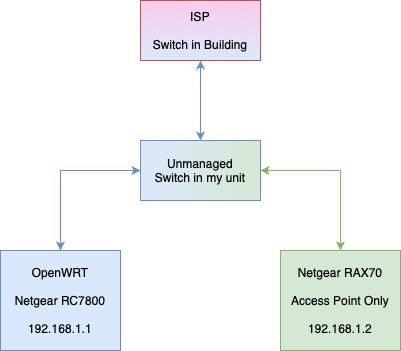 Hello, there OpenWrt community. I've been using OpenWrt for quite some time now, but just recently moved into a new apartment complex and I'm slightly confused on how to set my settings.
In the attached diagram, all of the arrows represent SINGLE ethernet cables from one device to the next.
My ISP in this building just has one ethernet cable coming through to my unit. Rather than picking my living room or my bedroom, I wanted to utilize both so I grabbed an unmanaged switch.
Now, I have a Netgear RAX70 that I use as an access point set at 192.168.1.2, which is connected to the unmanaged switch.
My OpenWRT router (RC7800) is connected to the switches well.
I'm not quite sure how to get my OpenWRT to talk to my access point. I have the access point connected to a LAN port.
I did have it working for about... a minute before, for some reason, I lost the WAN connection.
A few questions I have:
On my Access Point, I SHOULD be using the LAN port to connect to the unmanaged switch, yes?

On my OpenWRT, which port should I be using? WAN or LAN?

How should I be configuring the OpenWRT is serving as my main router (connection to WAN, DHCP, DNS)? I imagine it's more of a Switch configuration than an interface configuration, but I could be wrong.

Is it possible with this unmanaged switch set up or am I trying to do something that's not possible? My ISP said the unmanaged switch is something they recommend to their customers if they want to take advantage of both ethernet ports in the unit.
Thank you very much.