So here I am with my Buffalo WXR-2533DHP
I was configuring collectd graphs and I noted that the traffic pattern on the wan was not a match with the traffic patter on the br-lan, so I decided to go deeper into that and find out what was the story.
So I have 2x 4G usb dongles connected via mwan3, eth2 and eth3, both same operator, nothing special here.
But if you look at the image I attach..
Up left corner eth2, sending traffic from the wan interface to china
Up right corner eth3, sending traffic from the wan interface to japan
Down left corner br-lan, just discovery Tuya traffic, there is no match at all with the traffic displayed on the eth2 and the eth3!
All wiresharks were capturing traffic at the same time.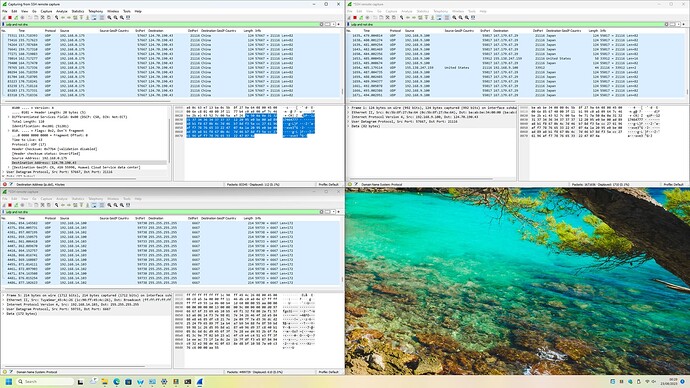 So, my question is, what is triggering that traffic?
I don't have any particular stuff on the openwrt, actually it is a fresh installation
cat /etc/openwrt_release
DISTRIB_ID='OpenWrt'
DISTRIB_RELEASE='22.03.5'
DISTRIB_REVISION='r20134-5f15225c1e'
DISTRIB_TARGET='ipq806x/generic'
DISTRIB_ARCH='arm_cortex-a15_neon-vfpv4'
DISTRIB_DESCRIPTION='OpenWrt 22.03.5 r20134-5f15225c1e'
DISTRIB_TAINTS=''
Any idea? becaut it is very strange, I can't find a reason for it.