I'm using nft-qos and it does pretty well when it comes to splitting the bandwidth, however, I've run into an issue.
Let's say my max bandwidth is 40 Mbps. I would like to be able to have a stable connection when playing online games and still allow others to, for example, watch Netflix. Therefore I put 400 kBps (3.2 Mbps) speed limit on their devices. The problem is that despite this limit, my ping in games constantly jumps between 50-150 ms (where normally it is stable 50 ms). In the realtime rate statistics, I can see that bandwidth usage of the "Netflix devices" is as supposed, topping at 420 kBps (before using nft-qos it my ping was more like (50 - 2000 ms).
Hence, I tried using the traffic priority setting and set it up as follows: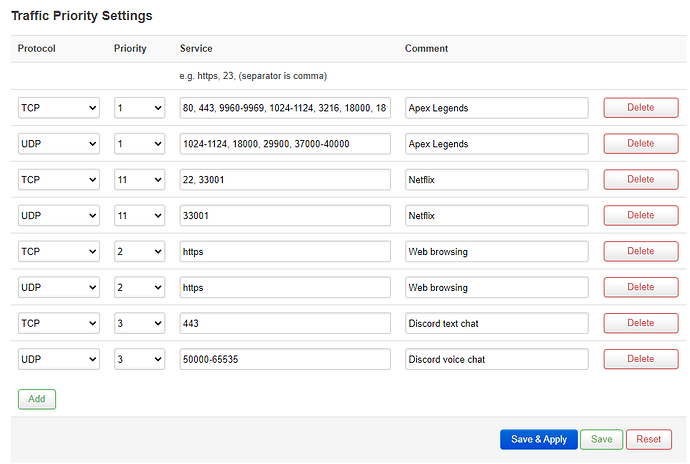 I'm not sure if I've set it all up properly because it doesn't seem to help at all. And also, is there a way to set priority 1 on the game (Apex Legends in this case) and priority 2 on anything else?
Maybe there are other solutions that would allow my PC to have priority before all other devices?
Note: I'm using a 4G connection and therefore it's not really stable (20 Mbps - 60Mbps). Hence, I don't think that using SQM is a viable solution (is it?)