Yeah, it's off topic in this thread, create a new one.
just updated my APU2C4, flashed the latest CoreBoot v4.16.0.3, added an additional wifi module WLE900VX taken from my Velocloud 520... i really love this device

since the APUx exist why are they still stuck with the GX-412TC cpu ? There are plenty of more powerful cpu now...
Their latest innovation is a 1Gbps SFP port...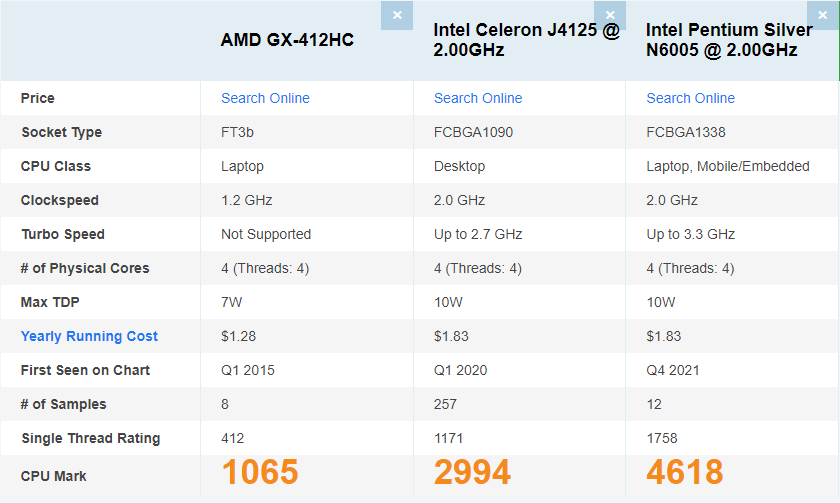 cheaper, and competent enough to do 1gbit routing ?
This is not compatible with the marketing.
Marketing: Persuading people to buy products they don't need with money they don't have, to impress neighbors who don't care!
It's up for interpretation, I guess.
You (obviously) don't need any better CPU for 1gbit routing, so that's spot on, unless something else was promised, where the GX-412TC underperforms.
For $20 (SW301DA, used) I really wouldn't complain...
The Cyberoam SCB-6901 could be an alternative to the SW302DA, using intel 211 NICs.
Only drawback are the USB2 ports, where as the 302 got USB3s.
Was $20 + S&H on ebay.com (I bought it), still cheapish on ebay.co.uk, if you're in EU, and don't mind the import fees.
Look for the CR25ing version (or CR25Wing, if you want wifi). There's also the CR15ing/CR15Wing and CR35ing.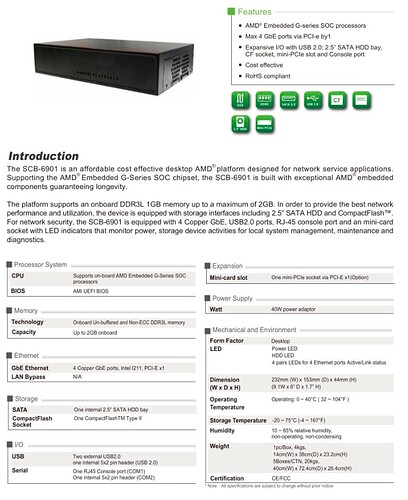 fwiw, while I haven't tried myself but you can use mpd5 to get better PPPoE performance.
@frollic thanks but not sure if i understand all ... is it possible to simply answer if it can or cant handle 1gbit / stable etc... thanks
If you want a simple answer, then it'll be 'no' - given that this device isn't supported by OpenWrt, yet.
--
it's also news to me that this is an x86 board…

i though its supported as metioned here on forum... hm so at the beginning ... no clue what hw to go for ...
Within the scope of this thread and considering a roughly 100 EUR/ USD budget (e.g. that of a r5s with shipping; if you're lucky you may get one for half of that, but that may require persistence), maybe a used Sophos SG115/ rev. 2 or XG115/ rev. 2 would be an easy answer (it'll be bored with mere routing, I can't really put a number on its SQM capability at full speed though).
I have a few spare Sophos devices that I'll offer here before listing on ebay. PM me if interested.
PM me if interested. Shipping would be from Zip Code 30101 in USA.
In France, you can get used OverTheBox appliance for 50/80€ max
https://www.leboncoin.fr/recherche?category=15&text=OverTheBox
Germany here (but the base line works in every country):
I've improvised some consumer x86 PC parts together:
used parts: intel 2019 8gen Pentium Gold 5600 (2+2HT, 4GHZ 64bit), 1 bar of 8GB DDR4 RAM 2400, mini mATX case, SD card USB adapter, AC/DC 120W Laptop PSU.
new parts: Asrock B365 mATX mainboard with 2x PCIx16, PICO PSU DC/DC 150W, bequiet pur rock slim2.
used IBM 5899 Broadcom 4-Port PCIe card 74Y4064. This was a nice lucky punch: 28€ including shipping, no heat sink needed, low power, runs right OOTB with v22.
250GB SSD from my loose parts box for later ksmbd.
I was not really frugal while spending, primarily wanted 8gen intel and non-smoker parts, as the system might also end up as a Win11 office system. I also own another 8gen intel and like to be able to switch around parts when needed. Put some time into picking low power consumption parts: intel+asrock/fujitsu mainboard+Pico or a modern Corsair RMxxx PSU likely result near 10W idle operation.
parts roughly worth 220€. You can easily get lower than this even with 8gen intel, as I made a few non-ideal purchasing decisions
CPU is nicely overpowered for 1GBit routing
boots from SD card
9.5 Watt power consumption idle with disconnected keyboard/screen
~ 11 Watt while NATing 0,5GBit
50-60Watt if CPU really would get full action.
Noise: none, fan set to constant bare minimum due to the huge sink. CPU is not even undervolted yet, and currently intel power state c7 (maybe i can figure c8-c10 out).
minor drawback: A mini mATX case is still a bit bulkier than a wall-hangable appliance (but on the other hand easier to replace parts).
My lession for the next one: will go for a Corsair PSU, had some setup issues with the Pico.
CR35ING / SCB-6979
similar hw to the CR25ing / CR25Wing, but with two additional ethernet ports, and upgradable RAM.
Same power usage 12V/1.7A.
Ran across one of these today, looks pretty competent, at the right price (currently $70 new, on US eBay).
VANTRON VT-M2M
Model: VT-M2M-BTA-DE
Part Number: CGX-402-E482-7
Processor/CPU: Intel Atom E3845
Processor/CPU Speed: 1.91GHz
Number of Cores: 4
L2/L3 Cache: 2x 1 MB 16-way set associative shared caches
Memory Capacity: 2GB
Memory Type: DDR3 SDRAM
Storage Capacity: 16GB
Storage Interface: SATA 3 6.0Gb/s
Wireless Lan Support: 802.11b/g/n Intel N62205
Network/Communications: 2x Intel 82574
Audio: Realtek ALC269
Input/Output Ports: 2x RJ45; 1x WLAN or Bluetooth antenna connector; 1x GPS antenna connector; 1x 3G/GPRS antenna connector; 1x ZigBee/Lora antenna connector; 2x USB 2.0 (Type-A); 1x VGA; 1x MIC in 3.5mm; 1x Line Out 3.5mm; 1x RS232/485; 1x SD Card Slot
Power Input: 100-240V 50/60Hz 1.5A
Power Output: 9-36V
Color: Black
Height: 2.04 in (52 mm)
Width: 3.97 in (101 mm)
Depth: 3.85 in (198 mm)
Weight: 2.64 lbs (1.2 kg)
Type: IoT Automation and Remote Access Management
Operating System: Linux Ubuntu
Supported Operating System: Windows
Features: 2x 3G/GPRS 1dBi Antenna; 1x WLAN/ZigBee 3.2dBi Antenna 2.4G; 1x GPS 1.5G Antenna; 1x Power Adapter P/N: GPE652-120500D
I tore mine down in anticipation of providing an entry to WikiDevi and found 16GB Innodisk SATA Slim 3ME SATA SSD, Intel Centrino Advanced-N 6205 PCIe WIFi (FCC ID: PD962205ANH), Telit DE910-Dual PCIe LTE Modem (FCC ID: RI7DE910-DUAL), ublox NEO-6M UART based GPS module, and a XBee S2C Zigbee RF Module.
Do you still own any XG devices? I didn't have any XG on hand when submitting PR to have Sophos SG/XG line supported by OpenWrt (defining the device and assigning ports to LAN/WAN properly), so would be nice if you could confirm wherever 22.03 works on them.
I still have an XG 85W, XG 105, XG 115, and XG 125W. Will try to find time this weekend to load 22.03 on them.