Hello everyone,
hope you doing well!
Before I was updating OpenWrt to Version 19.07.7 on my router, I followed the steps from this German guide for installing and using stubby with OpenWrt: https://www.kuketz-blog.de/stubby-verschluesselte-dns-anfragen-openwrt-teil5/
Everything worked until the update. After the update, I reinstalled all packages and than imported by backup with all configuration files. So far, so good.
When I now run the dig command to check DNSSEC Validation, the 'ad' flag is missing. The ad flag signals that dnsmasq considers the DNS server's response to be authentic or that validation via DNSSEC is working.
Here the output:
$ dig dnssectest.sidn.nl +dnssec +multi @192.168.1.1

; <<>> DiG 9.11.5-P4-5.1+deb10u3-Debian <<>> dnssectest.sidn.nl +dnssec +multi @192.168.1.1
;; global options: +cmd
;; Got answer:
;; ->>HEADER<<- opcode: QUERY, status: NOERROR, id: 45546
;; flags: qr rd ra; QUERY: 1, ANSWER: 2, AUTHORITY: 0, ADDITIONAL: 1

;; OPT PSEUDOSECTION:
; EDNS: version: 0, flags: do; udp: 4096
;; QUESTION SECTION:
;dnssectest.sidn.nl.    IN A

;; ANSWER SECTION:
dnssectest.sidn.nl.     3600 IN A 212.114.120.64
dnssectest.sidn.nl.     3600 IN RRSIG A 8 3 3600 (
                                20210409081101 20210310081101 42033 sidn.nl.
                                Gctii9oIoMCSAlwDXAh6Y1AflOZ7+gYO/KKaDTk6Gx2B
                                GSpZ2zON5X12Cx91ReM7j1+sA2mAPDBcKQ/Zl1KtxEme
                                HvlylfX8JS3I4cvAMIZUAV0V+T9OZfw2IWOCXS0/c3/z
                                nMv8hm1z4/RV73MQ+EGqQwgfw/nnENZwTs8Bb4k= )

;; Query time: 535 msec
;; SERVER: 192.168.1.1#53(192.168.1.1)
;; WHEN: Mi Mär 10 14:30:58 CET 2021
;; MSG SIZE  rcvd: 266

Any Ideas why? DNS itself works. Also the correct DNS servers are shown at https://dnsleaktest.com: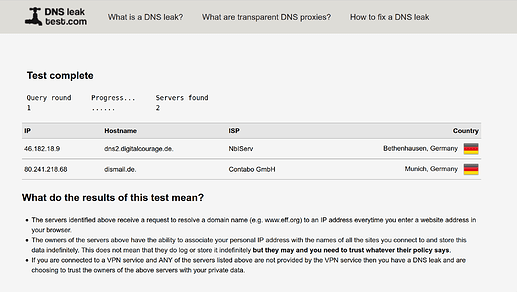 If you need any specific configuration file, please let me know.
Thank you very much.
Cheers,
Lasko