Hi,
h/w: Linksys WRT3200acm + NG NK R8000 + Gl.Net-AR150 + TPLink smart switch + NG 8 port smart switch.
Physical layout: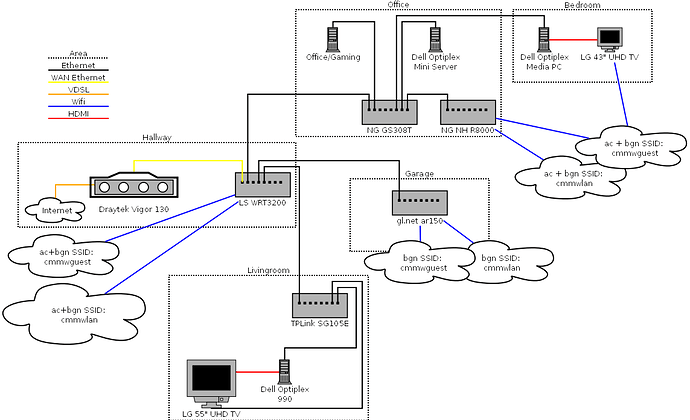 I am aiming to create two VLANs. LAN and GUEST over both Wired and Wireless, spanning all of the switches/routers, so that they share a single DHCP server etc. Only DNS needs to transit to the LAN.
Start on the positive. I managed to configure the wired VLANs through the 2 switches and get the Linksys WRT to play along. (After LOTS of fiddling and struggling with V19 docs and howtos not working).
I have become stuck with the Netgear Nighthawk R8000. Suprisingly it's Wifi works, all 3 radios and I get up to 500Mbit on radio 2. I can also get it to work on VLAN 1.
The issue is assigning wifi (or anything?) to VLANs. The R8000 has a "single interface 4 port hardware BCM switch".
By default OpenWRT attaches to eth0.1 (VLAN 1). On the hardware switch eth0.1 is set as tagged on CPU. If I add my "Guest" VLAN (3) I get an eth0.3. However there is clearly some confusion as to what eth0.3 is. Most times it seems to default to a Software VLAN. Other times it's a "Switch VLAN" When I have managed to create it as a "Network Device" and it shows as "Switch VLAN eth0.3" placing an interface on it and trying to assign a wlan radio to it... doesn't work.
tcpdump shows the radio/wlan dhcp packet arrive, but it does not appear on the eth0.3 vlan port OR on eth0 switch at all. It just disappears.
I also tried creating a software VLAN 3 on a new bridge as br-guest.3 and bridging it with eth0.3 but... no switch forwarding from Wifi on "guest" network via that bridge either.
Yet eth0.1 works fine for "LAN" zone traffic.