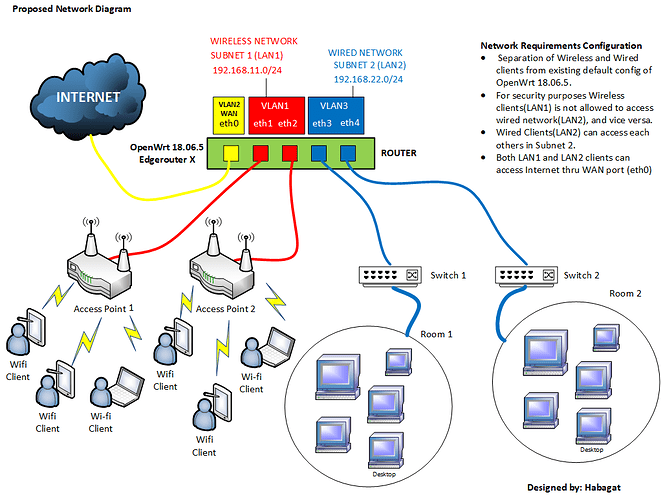 Hello everyone,
I have an Edgerouter X running OpenWrt 18.06.5 with the default configuration.
All of my wired and wireless network clients are connected in a single LAN or VLAN1.
For network security purposes I need to create two LANs with two subnets. 192.168.11.0/24(LAN1) for wireless clients and 192.168.22.0/24 LAN2 for wired clients. Both LANs will be connected to the internet through port eth0 or WAN.
I wanted to divide and assign physical ports of the router such as eth1 and eth2 as LAN1(VLAN1) for Wireless Clients using two access points. The Wired Clients will be using two ports eth3 and eth4 as LAN2 (VLAN3) connected with two switch hubs. Please see the Network Diagram for more details of the network requirements.
I understand from my current research and readings that VLAN is the key and I need to configure the /etc/config/network and /etc/config/firewall config files. VLAN3 has to be created within the switch(Luci) tab and named it as lan2 in the network config file with DHCP enabled. I am hesitant to do it or do some experimentations because I might screw up my Edgerouter X box and won't be able to use it again.
Might someone out there already have an existing and tested configuration for this kind of setup.
I really appreciate if you could help me. Thanks in advance.