Dear OpenWRT community,
this would be a very nooby question, please don't be too harsh.
I have a slow ADSL internet connection, my trusty AVM modem/router does not mange to priorize traffic to my (home)office pc in a sophisticated way. Other PCs watching Youtube clog up the internet.
What I wanted to achieve:
Using a Raspi as a "gatekeeper" to priorize network traffic to my office machine.
What I got:
Configure ETH0 to a static IP, assign LAN zone, resolve and ping hostnames in the internet.
Client successfully could access the pi on its ETH0 IP.
The drivers for the USB NIC were also successfuly installed.
ETH0
IP static 192.168.1.5
Subnet 255.255.255.0
Gateway 192.168.1.2
DNS 192.168.1.2
DHCP off
zone LAN
ETH1
IP static 192.168.1.6
Subnet 255.255.255.0
Gateway 192.168.1.5
DHCP on
zone LAN
Now I am stuck.
Connecting a client to ETH1, it obtains a DHCP IP (but not in the range specified) and even refuses to ping 192.168.1.6. How can that be?
Could you please help me get unstuck?!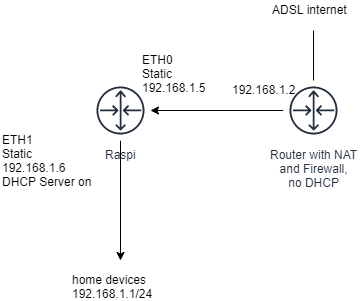 Thanks in advance and regards