Hi everyone,
I am very happy with my current OpenWRT setup (Wireguard setup: Mullvad Client + Server for Android). Router is TP-Link TL-WDR3600 v1 running on OpenWRT 18.06.4.
Unfortunately I am running in a problem since yesterday. I did not change anything in my setup (well I thought so
). My router seems to be unable to resolve any DNS requests, which are needed by OpenWRT itself. For example updating the system time or the dynamic IP. All DNS requests are send to a Pi-Hole in my network, which is supposed to take all requests, filter them, then send them to the Mullvad DNS server (193.138.218.74), a server which is reachable from in- and outside the Mullvad VPN tunnel (so it does not make a difference if I am connected to Mullvad or not).
The OpenWRT router is configured in a way, that all DHCP clients are using the Pi-Hole. For that I set under "DHCP and DNS" -> "DNS forwardings" to the static IP of my Pi-Hole (192.168.100.2) and in interface settings I disabled "Use DNS servers advertised by peer" for WAN and added Pi-Hole as first custom DNS and the Mullvad one as fallback.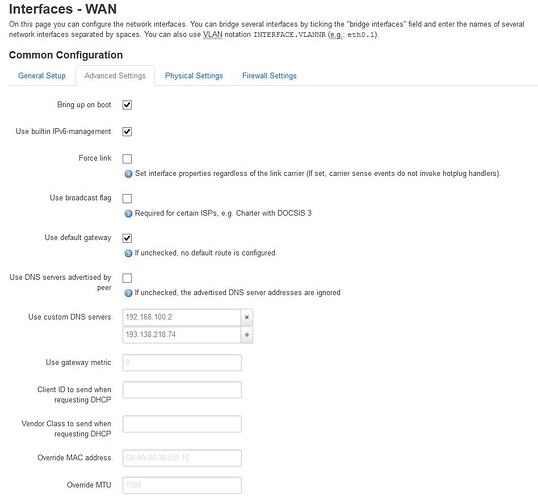 I see ALL requests in the Pi-Hole log, and surfing works, also with blocking (checked by blacklisting facebook and try to call it). I also see the "dynupdate.no-ip.com" questioning in the Pi-Hole log. But the Pi-Hole seems not to answer. This is weird, but it is also weird, that obviously the fallback is also not working.

I tried setting "DHCP and DNS" -> "DNS forwardings" to 8.8.8.8 and the router seems to resolve the DNS questioning (at least it connected to Mullvad then, which was also not possible since mullvad was not resolved), but I do not really want to use another DNS server than the Pi-Hole.
Could someone please explain to me what I am doing wrong? And what is the difference between the two options for setting the DNS server? Thank you a lot!
Please find attached the syslog entries (I enabled "Write received DNS requests to syslog").
Best regards!
Mon Jan 13 19:10:25 2020 daemon.info dnsmasq[6208]: 18407 127.0.0.1/58847 query[A] dynupdate.no-ip.com from 127.0.0.1
Mon Jan 13 19:10:25 2020 daemon.info dnsmasq[6208]: 18407 127.0.0.1/58847 forwarded dynupdate.no-ip.com to 192.168.100.2
Mon Jan 13 19:10:25 2020 daemon.info dnsmasq[6208]: 18407 127.0.0.1/58847 forwarded dynupdate.no-ip.com to 192.168.100.2
Mon Jan 13 19:10:25 2020 daemon.info dnsmasq[6208]: 18407 127.0.0.1/58847 forwarded dynupdate.no-ip.com to 192.168.100.2
Mon Jan 13 19:10:25 2020 daemon.info dnsmasq[6208]: 18407 127.0.0.1/58847 forwarded dynupdate.no-ip.com to 192.168.100.2
Mon Jan 13 19:10:25 2020 daemon.info dnsmasq[6208]: 18407 127.0.0.1/58847 forwarded dynupdate.no-ip.com to 193.138.218.74
Mon Jan 13 19:10:25 2020 daemon.info dnsmasq[6208]: 18408 127.0.0.1/58847 query[AAAA] dynupdate.no-ip.com from 127.0.0.1
Mon Jan 13 19:10:25 2020 daemon.info dnsmasq[6208]: 18408 127.0.0.1/58847 forwarded dynupdate.no-ip.com to 192.168.100.2
Mon Jan 13 19:10:25 2020 user.err ddns-scripts[2778]: myddns_ipv4: cURL Error: '6'
Mon Jan 13 19:10:26 2020 user.warn ddns-scripts[2778]: myddns_ipv4: Transfer failed - retry 1425/0 in 60 seconds