This is alzhao from GL.iNet. I am posting to recommend our new router, OpenWrt with display.
To check more details: https://www.gl-inet.com/products/gl-e750/
It is also on Kickstarter now: https://www.kickstarter.com/projects/glinet/mudi-4g-lte-privacy-router-for-road-warriors
SoC – Qualcomm QCA9530 MIPS24Kc processor @ 650 MHz
System Memory – 128MB DDR2
Storage – 16MB + 128MB flash + MicroSD card slot up to 128GB
Connectivity

WiFi

2.4 GHz 802.11b/g/n WiFi 4 up to 300 Mbps
5 GHz 802.11n/ac WiFi 5 up to 433 Mbps

Cellular – 4G LTE Cat.6 or Cat.4 module + NanoSIM card slot

USB – USB type-C port
Display – OLED display
Misc – Power button, VPN switch button
Power Input – 5V/2A
Power Consumption – > 6 Watts
Battery – 7,000 mAh LiPo battery good for 12 hours on a charge
Dimensions – 144 x 77.5 x 23.5 mm
Weight – 285 grams
The OLED is connected to a MCU. The MCU firmware and its controller app in OpenWrt are opensource. So if you want to customize the OLED it is possible.
Compared to GL.iNet AR750S Slate and MV1000 Brume.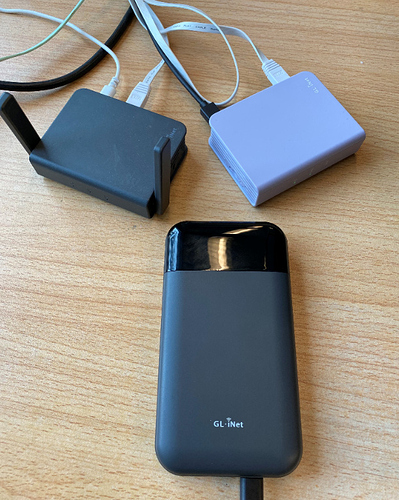 The OLED displays: Time, carrier, battery status, repeater info, clients, message, VPN, Tor, Wi-Fi info. It has several pages to display more.

It also display when you enter uboot failsafe mode or upgrading your firmware.

It does have Ethernet port by using a port replicator.