Hi folks,
First time posting. Please forgive if this is a noob question. I have searched the forums and googled but not had any luck with this issue. This is my first experience with OpenWrt.
So I recently installed Opwen-WRT v19.07.3 (openwrt-19.07.3-ath79-generic-tplink_re450-v2-squashfs-factory.bin) on my TP-Link RE450 v2 range extender and followed this guide to make it a repeater. I have added the client and access point devices to radio 0 (5Ghz) and radio 1 (2.4Ghz) and have named the access points OpenWrt_5G and OpenWrt_2.4G respectively.
I am able to see the OpenWrt_2.4G wireless network on all my devices and have network access through it but I do not see the OpenWrt_5G access point and the TX power displaying on my radio 0 AP is 0dbm. I tried manually setting the Tx power but then I got "device is not active" for radio 0 which persisted through a restart of the radio.
Has anyone had experience running OpenWrt on this extender and know why this could be. Any help is appreciated.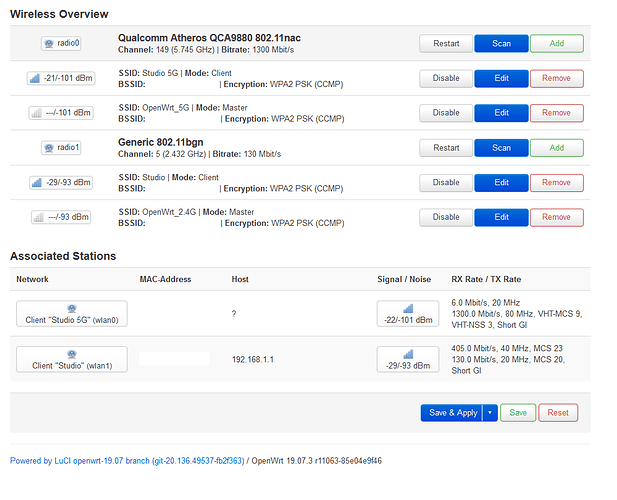 Thanks,
Ken