I recently updated my Nighthawk (R7500v2) to OpenWRT 21.02.1. I'm trying to setup with this as a "PPPoE" bridge connected via ethernet WAN port directly to the CenturyLink ONT, (With CenturyLink, this means VLAN tagging on 201).
Starting from factory settings, I have:
Leaving VLAN 1 and 2 as-is, create a 3rd entry for VLAN 201. Set 'tagged' for eth0 and WAN.
Leave br-lan at eth0
Set WAN to pppoe and put in valid credentials
Set WAN to eth0.201
Leave WAN6 at eth0.2
LuCI configs look like this: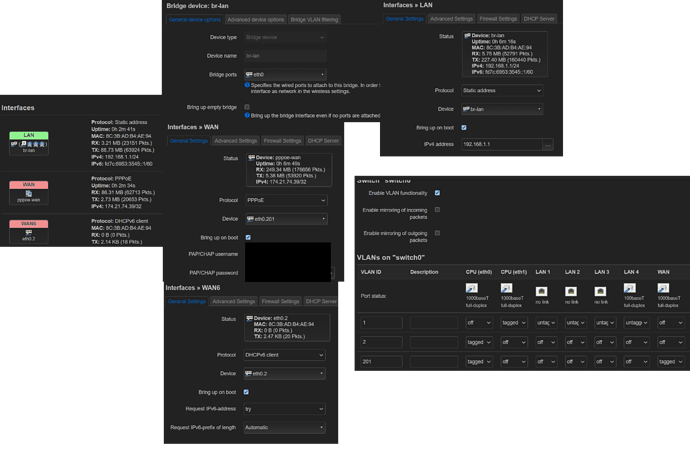 With this config:
Wireless networks are able to reach the internet.
But I am unable to connect from any of the Ethernet Ports (LAN1, LAN2, LAN3, LAN4).
I also cannot connect to the router from any of the ports after making these changes, its WiFi only.
I've seen some talk about how 21.02 Update has enabled DSA and configuring the bridge to use Bridge VLAN filtering -- but I'm not sure what to change in my config to make things work.. And i've locked myself out of both Wireless and ethernet when I do it incorrectly
Any tips, using either Bridge VLAN filtering or the VLAN IDs in the Network -> Switch config, that would enable me to connect my wireless networks and ethernet ports so that I can send/receive internet traffic?
Thanks in advance!