Hi,
I have played with the setup of my router, trying to achieve the following diagram:
I duplicated what was working for lan network through tun0:
I created a second interface lan-guest using a new bridge (br-lan-guest) attached to a new vlan (vlan 3) which tags only cpu eth1. I also added new firewall zones for lan-guest and vpn tun1.
Using pbr it seems to work fine.
on lan-guest, only radio1 is attached as an AP for clients to connect.
I was wondering in the lan-guest interface setting, what difference does it make when using either the bridge (br-lan-guest) or selecting the wireless interface instead:

The firewall is set like this: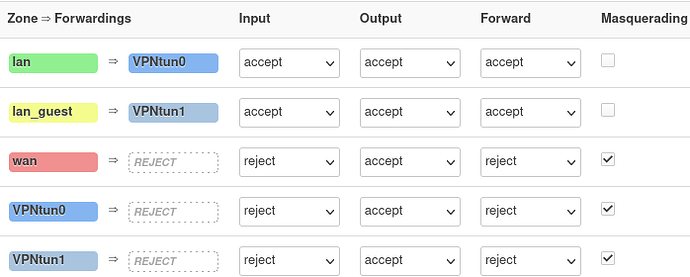 Because zones are separate, I believe I dont need to add such rules, is that correct?

I am also trying to block access to LuCi from lan-guest, however it has not worked when adding the two rules:
to block access to the router IP
to allow dhcp and dns

Is a rule missing to make it work?
Many thanks in advance