I have been playing with PPPoE (rp-pppoe-server package) for a few hours now and I just managed to get it to route packets out to the internet on the server side.
Although I understand why it now works, what I don't understand is why I had to do what I did. In order to route packets out, I had to add the automatically created ppp0 device to an interface and put that interface in the LAN firewall zone, and assign it a static IP address (192.168.1.1 in my case, the same as the LAN IP).
I feel like this should be automated in some way, because what if I have multiple peers connecting to the server? I do not want to have to create an interface for every single peer (ppp0, ppp1, ppp2 ...).
In addition, the static IP I had to set on this new interface was also key to it working. An unmanaged interface would not work. Why is this?
I do not understand why I would need to configure these additional setting because the PPPoE server is configured with the "listening side" IP already (it is also set to 192.168.1.1), and the PPP tunnel is already established, allowing the devices to communicate with each other by their configured IPs (the peer can communicate with 192.168.1.1 and the server can communicate back via the automatically assigned IP)
Explanations and a correction to my configuration would be much appreciated
---
---
Interface A is the one I had to configure for ppp0, interfce LAN is a normal IP LAN, interface PPPOESERVER is an interface used to separate one of the physical LAN ports from the LAN purely so it can be individually selected by the PPPoE server, and interface WAN is a double NAT out to the internet
---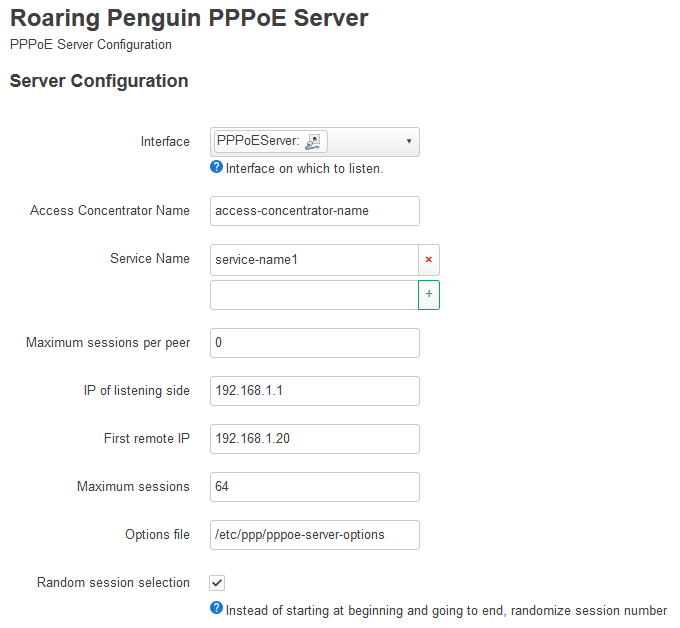 The PPPoE server configuration page, pointing at the PPPOESERVER interface
---
/etc/ppp/pppoe-server-options
# PPP options for the PPPoE server
# LIC: GPL
require-chap
login
lcp-echo-interval 10
lcp-echo-failure 2
mru 1492
mtu 1492
ktune

Thanks!