The web flash thingie takes multiple file formats, including the factory image format made by OpenWrt.
Thanks for the data dump, the matching bits on the WD009 are indeed on mtd5 (params, just after the kernel partition), and at 0x00, so even the smallest overflow of kernel bits would result in the overwrite of the original u-boot environment:

However since OpenWrt would be using mtd2 as uboot-env, if it was set up as such in envtools, that partition wouldn't matter - and I doubt it does much for the stock OS either. It does not match neither the running config IP addresses, nor the TFTP/webflash recovery mode network setup. To me it looks like a developer accidentally saved some testing data by accident, and the partition wasn't updated since (not the first time to happen to a Chinese manufacturer, e.g. ZTE sent out an update back in 2010, setting everyone's IMEI numbers to a test unit used in their labs). I'm more or less certain that apart from the section a bit further in the file, it is unused by the stock firmware.
And yeah, the part I'm talking about: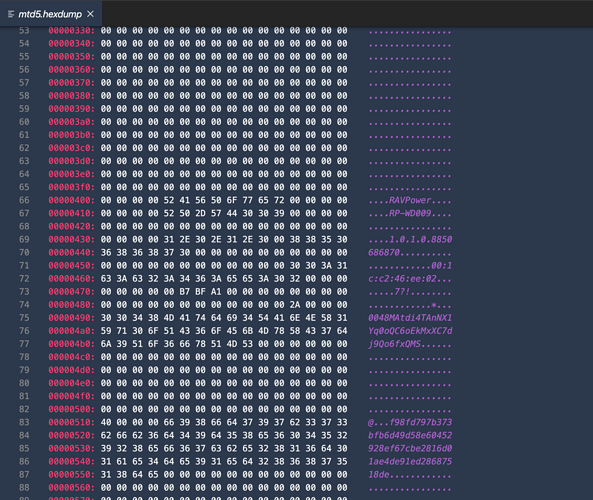 It contains the manufacturer name, device name, a version number, the main MAC address, and two hashes (haven't figured out what they are for, but none of the partitions, or parts of the mtd5 partition, match the hash).
That's interesting. It should work. Can you try generating a script with this and see if that works? Worst case scenario you get telnet access and can do the DD partition dump manually.