Hi All!
Long time lurker here and basic OpenWRT user.
So far every issue I faced could be solved by reading either existing forum posts or the openwrt documentation. This time I'm looking for some inputs or guidance.
This documentation mentions possible/sensible configurations when dealing with two routers:
My current topology looks like this, which unfortunately is limited to make physical changes.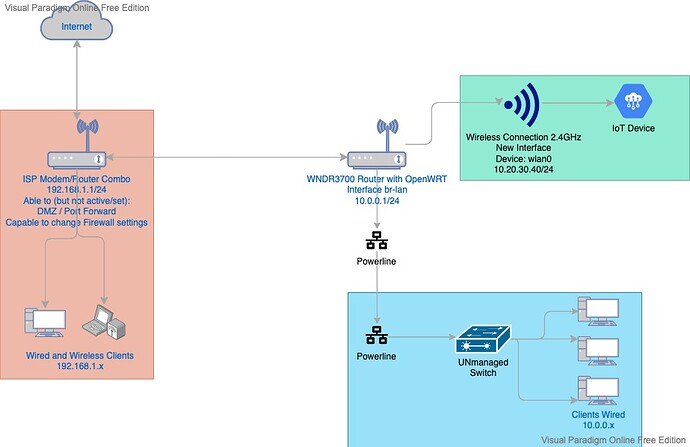 I'm getting my Internet Connection via the Modem/Router Combo received from my ISP and has the subnet of 192.168.1.1/24. A few Wired&Wireless devices are connected to it.
One LAN Port from the ISP-Router is connected with the WAN-Port of my WNDR3700 running OpenWRT v21.02.1.
The br-lan interface has a Static IP: 10.0.0.1/24. From there, one port is connected to a Powerline, which on the other end goes to an unmanaged switch.
Additionally I've created an Interface which has the "device" wlan0 attached to it with the subnet 10.20.30.40/24. This wireless connection is used for IoT devices and firewall rules have been made to isolate access to the other two subnets (192.168.1.1/24 & 10.0.0.1/24).
Now, my current configuration is a double nat configuration which I'd like to change.
The documentation above states how to proceed and what changes need to be made in order to configure DMZ.
Question:
As far as I understand this means, that the ISP-Routers functions will be disabled and from now on the OpenWRT-Router will handle the whole network? As the name suggests the ISP-Router would be now only a Bridge.
If yes, is there a way to keep my current configuration (subnets, two wireless access points, etc.) and not have double NAT on the OpenWRT router?
Sorry in advance if I misunderstood the documentation.