Hello!
I'm trying right now to setup VLAN that would have no internet access - to be used for connecting wifi home cameras ( Obv why I don't want these connected to internet xd )
I'll drop my network setup here - where there is router icon that's an actual router ( Orange field is where cameras go and router called guest is something else entirely - I wanna isolate that part of the network completely from everything else - just let it access internet )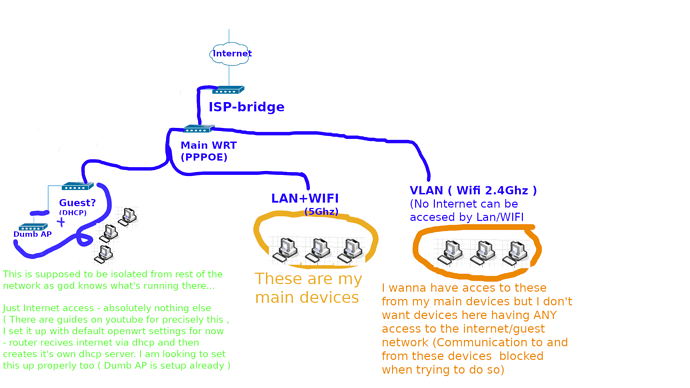 Cameras will connect via wifi 2.4ghz only
Guest router will be connected via cable to MAIN WRT router - then it passes connection to it's own DUMB AP via cable as well
I am complete newb when it comes to this... Didn't even setup guest network properly (xd ) for I wasn't sure if It would have to deviate from youtube videos due to my requirement of having another offline vlan (I am reffering to these videos for guest setup)
My server which gathers rtsp streams from these cameras would be on Main devices VLAN - which has access to the internet so I can view cameras however I want once set up later on
I read up a bit on this and also found this - link- which looks like it could apply here? Again idk...
Would someone be kind enough to offer steps on how to do this via luci/ssh ? :z
Like how to setup firewall , interface and such... Ty
I am dropping below my current luci setup ( It's all default settings I just changed wifi name on 5GHZ and changed to PPPOE on WAN interface )
Interfaces: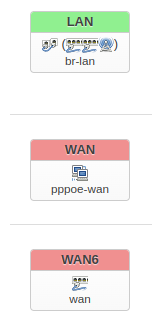 Devices: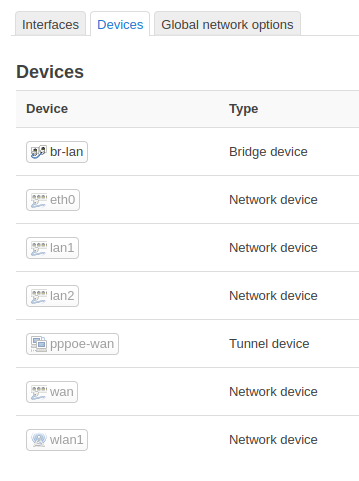 And firewall:


Switch option does not show up inside dropdown menus of luci so I am not sure if my router even suports hardware switch ( Mi Router 4 - v1 )
The other 2 routers that I'd like to use for guest network are Mi Router 4A Gigabit edition
Will try to check this thread every 15-20min o.o
Thanks!