G'day all,
I'm looking for some guidance with my R7800. I'm using one of @hnyman 22.03 snapshots. I'm mainly using Luci however, happy to connect via SSH if that is going to be more suitable.
My router is connected to a VPN provider using Wireguard. Using Policy Based Routing (PBR), I have two Win10 PCs accessing the web via the Wireguard interface. The rest of the connections are direct to the internet using the WAN interface. This seems to work ok.
On one of the Win10 PCs, I have Plex Media Server (PMS) installed and would like it to connect directly to the internet via port 32400 and not via the Wireguard interface. I have setup Port Forwarding under the Firewall rules and have also added a rule to PBR to allow port 32400 through to the Win10 PC via WAN.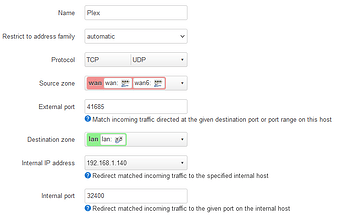 I can't seem to get a direct connection to my PMS from outside my network using this method. I'm sure I'm butchering this somehow and was wondering if someone can shed some light on what I'm doing wrong, how to fix it or a better way to do this.