Now that I have new hardware, I'd very much appreciate input on the best configuration. This is roughly what I'm working with: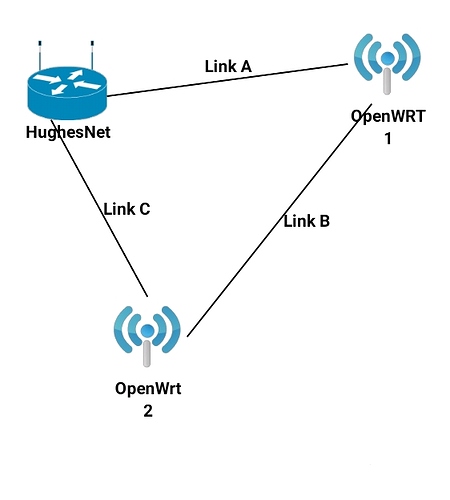 In the image, I currently have Link A and Link C hardwired to the proprietary router (WAN), with OpenWRT 1 and OpenWRT 2 set up as APs. This works as expected , but not how I want it to (Link B doesn't exist, etc.).
WAN and OpenWRT 1 are in separate buildings. OpenWRT 2 is basically acting as a range extender, and connected via POE.
In general, I plan to leave OpenWRT 1 and OpenWRT 2 always on. However, due to idiosyncrasies with my DIY power grid, it will occasionally be the case that one or the other goes offline.
¿What's the best way to configure this so that:
When WAN is powered off, OpenWRT 1 and OpenWRT 2 can still be on the same LAN (Link B)
If WAN is off and either OpenWRT 1 or OpenWRT 2 is powered off, there is still some wifi for the WLAN devices which can still connect.
If WAN is on and either OpenWRT 1 or OpenWRT 2 is powered off, there is still WAN from the other OpenWRT (Link A or C).
Same SSID with seamless roaming between OpenWRT 1 and OpenWRT 2
Bonus: All 3 are on the same SSID with seamless roaming.
If there's no path to 5, then I might as well switch off the wireless on the proprietary router. I'm okay with that.
Sorry, I'm still not clear on the differences between relayd, WDS, 802.11r, etc.
OpenWRT 2 only has one eth port, so my thinking is that I need to wirelessly connect OpenWRT 1 for Link B. I could also disconnect the wire on Link C, and move that to Link B.
I tried setting up both OpenWRTs with 802.11r, but couldn't get that to work, and my guess is that if it did, I'd lose scenario 1 above (Link B LAN). And when I think through WDS, it seems as though I'd lose scenario 3 above (Link C WAN). But again, none of this is very clear to me, and the wiki didn't get me up the learning curve.