Hello,
I have OpenWRT running on an Archer C7 AC1750, and I have a server running OPNsense (bare metal, not virtualized). I have been having trouble setting up my setup properly and cannot figure out where I am going wrong. I have tried searching, and have come across a few posts in these forums, and on the internet. I have also looked at guides for pfSense seeing they're similar setups. I have been at this for weeks now and can't figure it out.
Let me first explain my setup and goals:
OpenWRT is meant to act only as an access point for wireless, and OPNsense will handle everything else.
I have currently 3 VLANs, Mine (LAN), Family (LAN2), Guest. Both LAN and LAN2 have ethernet on OPNsense interfaces, Guest will be ONLY wireless (so the AP).
All ethernet devices on LAN are on one unmanaged switch, that plugs into OPNsense interface (ix2).

All ethernet devices on LAN2 are on another unmanaged switch which plugs into another OPNsense interface (ix1).
I have already confirmed by doing some ping tests, that LAN and LAN2 can't communicate to each other over ethernet as planned. So that isolation seems to be working.

The OpenWRT access point plugs directly into another interface (ix5) on OPNsense. For clarity here is the assignments page for OPNsense: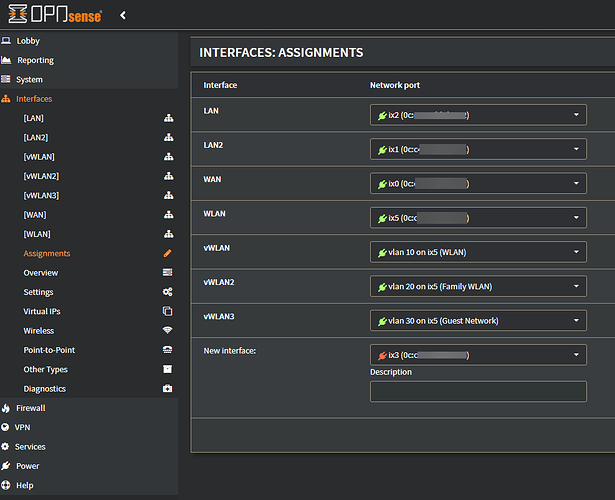 Now, as shown in the assignments page above, I have 3 VLANs setup on OPNsense. They all have the parent interface set as ix5. Then they are tagged accordingly, 10, 20, 30.

OPNsense interface LAN is set to 10.0.10.1, LAN2 10.0.20.1

OPNsense vWLAN is 10.0.10.2, vWLAN2 10.0.20.2, 10.0.30.1 (vWLAN are the VLANs that are meant to connect with OpenWRT if that wasn't clear).

OPNsense WLAN (the actual interface for the AP; ix5) has no static IP set (because this is handled by the VLANs as listed above).

Under services > DHCP on OPNsense, I setup DHCP for all the vWLANs.
Now on OpenWRT's side, I have followed the OpenWRT guide for setting it up as a dumb ap here: https://openwrt.org/docs/guide-user/network/wifi/dumbap
I then created 3 interfaces on OpenWRT. LAN, LAN2, Guest.
LAN has IP of 10.0.10.3, LAN2 10.0.20.3, Guest 10.0.30.2

I then made the SSIDs under Wireless.

I then went to Switching (if it wasn't clear, I have no managed switch besides the switch in the Archer AC1750) and created 3 VLANs, tagged them 10, 20, 30. I set all the boxes to "TAGGED" vertically for eth0 and LAN1 (LAN1 PORT to be specific, which is the ethernet cable that runs between OpenWRT and ix5 on OPNsense). See picture.
Basically I'm mirroring the VLANs on OPNsense, just set the interface IPs +.1 so it doesn't conflict.

Switch settings: https://i.ibb.co/7gtWBZD/photo-2021-09-27-17-48-09.jpg
Now I go back to interfaces, setup a bridge for each interface, so LAN gets and SSID1+eth0.10, LAN2 gets SSID2+eth0.20, LAN3 gets SSID3+eth0.30.
Save and apply everything. Reboot OpenWRT and OPNsense. Everything is applied as expected..
I connect my phone to one of the LAN access points (SSID), and it doesn't grab an IP. So I set a static IP for now just to see, and I cannot ping OPNsense @ 10.0.10.1, nor any machines on LAN. Nor do I have internet, so cannot reach out. If I check the firewall live log on OPNsense, I do not see anything coming from 10.0.10.2 or the IP set on my phone when connected to the SSID, trying to do anything. Like it doesn't even show it's being blocked. So it looks like the packets aren't even getting to OPNsense.
I can reach the web gui of OpenWRT from my phone (makes sense), so yeah it is something with the transmission from OpenWRT to OPNsense it's getting stuck on.

Yes I have tried a different ethernet cable, yes I have tried switching to a different port (interface) on OPNsense for the access point. Seems like a configuration issue not hardware.
And yes DHCP and Firewall are disabled on OpenWRT.
Here are my OPNsense Firewall rules for the LAN/vWLAN/WLAN interfaces/vlan.
So yeah, I'm not sure where I'm going wrong. I would highly appreciate help.
Sorry if anything was confusing, it's simpler than it sounds, but I am just poor at explaining things. If you need any other logs, or screenshots let me know and I can try my best to answer and provide! Really need to get this working. Thank you!