Hi, guys.
I have the following internet connectivity problem on ThinkPad laptop, my network configuration set up corresponds attached graphic: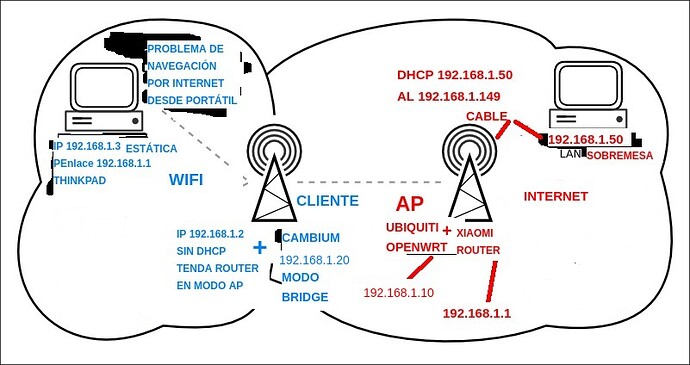 Details:
The goal is to provide Internet from a house in the city centre (AP: Ubiquiti with OpenWRT + Xiaomi router with Padavan and Internet) to another one in the countryside (Client: Cambium + Tenda router -> Thinkpad with WiFi). At the moment, I'm testing with the antennas practically right in front of each other. Max 2 kms of distance.

I think link, works. I Have used AP mode on the Ubiquiti NanoBeam AC Gen2 (WA) and Subscriber mode with Wifi Standard on the Cambium Force 180.

I have done pings from the Thinkpad and they reach both the Tenda and Cambium, but not the Ubiquiti or the Xiaomi.

With the desktop computer, the pings respond to the Xiaomi, Ubiquiti and even the Cambium but not to the Tenda.

The Tenda AC10, from the web administration panel indicates failure in the upstream router.

And the Cambium has 3 network modes: NAT, bridge and router. Right now, It is in bridge.
I suspect that the problem is in the Tenda and/or Cambium, even Ubiquiti firewall with OpenWRT?. What could it be...?
Best regards and thank you very much for your help.
Regards.