All,
I recently acquired an R7800 that did not come with antenna or power adapter. It appears to be DOA, but I was hoping to possibly fix it (since it is now free). I am using a 12v 2amp power adapter that seemed to fit fine and had the correct polarity (at least its markings were correct...).
Currently the router does nothing when plugged in (yes I did make sure the power button was "on". I also tried holding the reset etc. and nothing seemed to effect it. So, I opened it up.
I have pulled the board out fully (even taking off the top cover which has the thermal tape connecting the heat-sink). I didn't see any burnt or obviously blown/damaged components. So I tried to confirm that power was getting to the device (already tested the adapter).
Beside power connector are metal contacts that I assumed I could probe and confirm 12v... but I can't... I get a wavering <0.5v.... then I flipped it over, and there are three solder points. So I checked these and still can only get a wavering <0.5v... so now I am starting to wonder if this thing is even getting power correctly... but I am pretty novice at what I am trying to do - so I was hoping someone on here might have some knowledge and be willing to share it.
Here are the solder points under the power connector:

And here are the points I tried on the top of the board: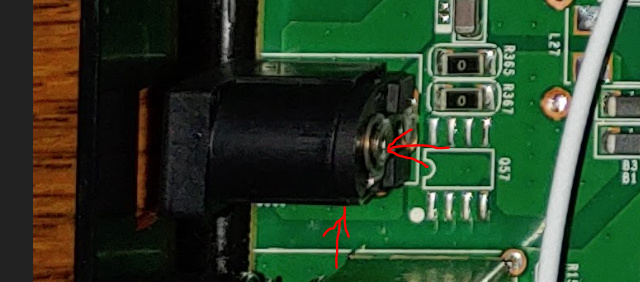 Can someone with experience possibly tell me if I am being an idiot, and if so where I should be checking voltage? If I am in the correct location, should I be getting the expected 12v or am I again ignorant of how it works?
It could be that the plug I found that "appears" to work, is actually short or something like that and it's actually making full contact?
Thanks for any/all help!
DeadEnd