The reason for this tutorial is because when you buy a Netgear router on amazon.com, the router comes in the US variant with the WiFi region locked on "United States" and it is not possible to change it. For example if you need to use the channels 12 and 13, or if you live outside the United States and the WiFi power regulations are different.
step-by-step to unlock the WiFi region selector:
1. Go to: http://192.168.1.1/debug.htm
2. Check "Enable telnet" option:
3. In the telnet terminal, type the following command: artmtd -w region WW
Note: WW means "World Wide"
The result is like this:

Other options for this command:
0x001 is for region NA
0x002 is for region WW
0x003 is for region GR
0x004 is for region PR
0x005 is for region RU
0x006 is for region BZ
0x007 is for region IN
0x008 is for region KO
0x009 is for region JP
0x000A is for region AU
0x000B is for region CA
0x000C is for region US
4. Reboot router
The final result is this: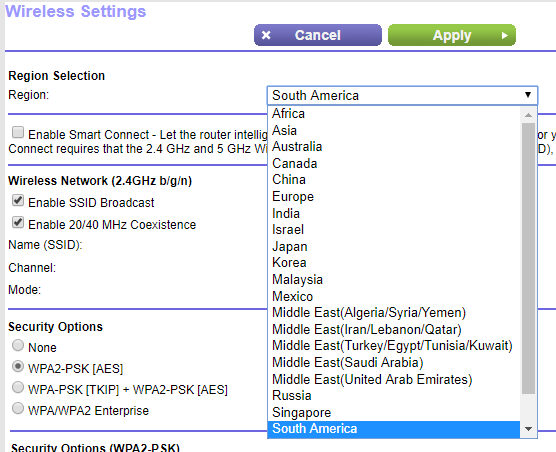 I hope this tutorial is helpful.
I will be attentive to any questions.