I have a netgear R6220 with 19.07.5 that over the last few weeks has crashed a few times - it seems more so recently. It's a fairly standard build. It looks like I have about 33 dhcp leases. I have wireguard 'client' vpn and vpn policy routing and munin-lite installed beyond the basic packages.
Several times I haven't been able to access the web server or ssh in. One time I had an out of memory error. Yesterday I could but there was no wan connectivity. With ssh, reboot didn't work and I had to power down.
The munin reports, to me, don't show any obvious issues. It does seem that memory usage is increasing?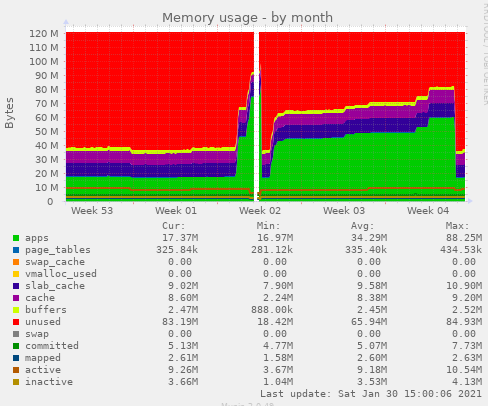 I did grab the output from top before rebooting yesterday (but after dns leases stopped being issued and wan connectivity had dropped.
Any ideas on what is causing this? Any information or log files I can grab if I notice performance degrading? Should I just reboot it memory use hits a certain threshold?
Thanks.
Mem: 101684K used, 22188K free, 380K shrd, 1328K buff, 2268K cached
CPU:   0% usr   0% sys   0% nic  50% idle   0% io   0% irq  50% sirq
Load average: 6.31 4.27 2.02 2/59 25716
  PID  PPID USER     STAT   VSZ %VSZ %CPU COMMAND
24573     2 root     RW       0   0%  43% [kworker/0:0]
25716 25704 root     R     1216   1%   4% top
  556     1 root     R     1032   1%   4% /sbin/urngd
 5233     1 dnsmasq  D     2816   2%   0% /usr/sbin/dnsmasq -C /var/etc/dnsmasq.
25715  1187 root     S     2208   2%   0% {luci} /usr/bin/lua /www/cgi-bin/luci
  937     1 root     D     2184   2%   0% /sbin/rpcd -s /var/run/ubus.sock -t 30
 3671     1 root     D     1804   1%   0% /usr/sbin/hostapd -s -P /var/run/wifi-
 3504     1 root     D     1784   1%   0% /usr/sbin/hostapd -s -P /var/run/wifi-
 1090     1 root     S     1748   1%   0% /sbin/netifd
    1     0 root     S     1572   1%   0% /sbin/procd
 1122     1 root     S     1452   1%   0% /usr/sbin/odhcpd
 1187     1 root     S     1360   1%   0% /usr/sbin/uhttpd -f -h /www -r OpenWrt
  906     1 root     S     1252   1%   0% /sbin/logd -S 64
  538     1 root     S     1244   1%   0% /sbin/ubusd
25704 25701 root     S     1224   1%   0% -ash
 4515     1 root     S<    1220   1%   0% /usr/sbin/ntpd -n -N -S /usr/sbin/ntpd
 1404  1090 root     S     1216   1%   0% udhcpc -p /var/run/udhcpc-eth0.2.pid -
25701  1033 root     S     1152   1%   0% /usr/sbin/dropbear -F -P /var/run/drop
 1033     1 root     S     1084   1%   0% /usr/sbin/dropbear -F -P /var/run/drop