Hello,
I've been running OpenWrt for a few months now on my Netgear D7800, its been running well apart from a couple of caveats which I wanted to discuss here to see if there are any workarounds / fixes.
The system memory available under OpenWrt is half of what is actually available to the device under the stock firmware.
Stock firmware debug menu (http://192.168.1.1/debug.htm) showing memory available (472MB):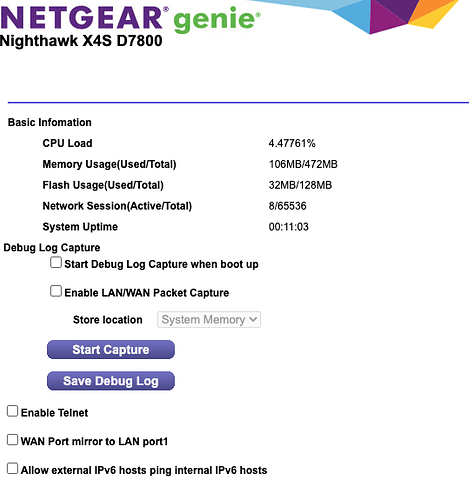 Freshly flashed OpenWrt, v19.07.6 showing less memory (215MB):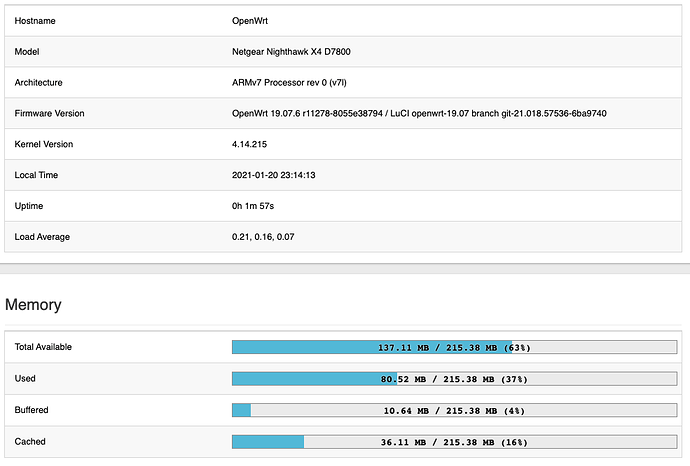 The device has very little storage space left for installing packages after the OpenWrt install, around 15MB, which sounds decent but isn't enough for some of the things I want to install, meaning I have to setup extroot, which is a bit of a pain when it comes time to upgrade the firmware.
I'm wondering is there a fix for either of these, perhaps by doing a custom build, particularly the memory, which seems like a bug to me?