I'm brand new to OpenWRT and am using 21.02.3 on a Rasbperry Pi. My goal is to replace the limited firewall/gateway on my home mesh system. I configured it with minimal adjustments, assuming that the standard install would be fairly strong, and then put the OpenWRT appliance between the fiber modem and the mesh gateway. My ultimate goal is to change the mesh gateway setup to AP mode rather than router-mode, an offload all the gateway, firewall, and DHCP responsibilities to the OpenWRT appliance. However, before I do that I've kept the firewall on the mesh gateway active in case I misconfigured the OpenWRT system and created a wide-open network.
Right now all standard traffic is routing fine and the OpenWRT and mesh gateway are able to pass traffic back and forth without any issues. However, when I look at the log of the mesh network, which is on the LAN side of the OpenWRT system, I'm seeing ACK scans showing up in the logs, and I don't see anything in the OpenWRT logs about blocking any SYN/ACK/ etc type packets or blocking port access, that sort of thing. The OpenWRT logging in Luci is set to "debug" level for both system and kernel.
This has me worried that I don't have my OpenWRT system configured correctly and it's just wide open. I'm using the Luci interface to configure as a preference, but if I need to do this from command line I can.
Firewall setup: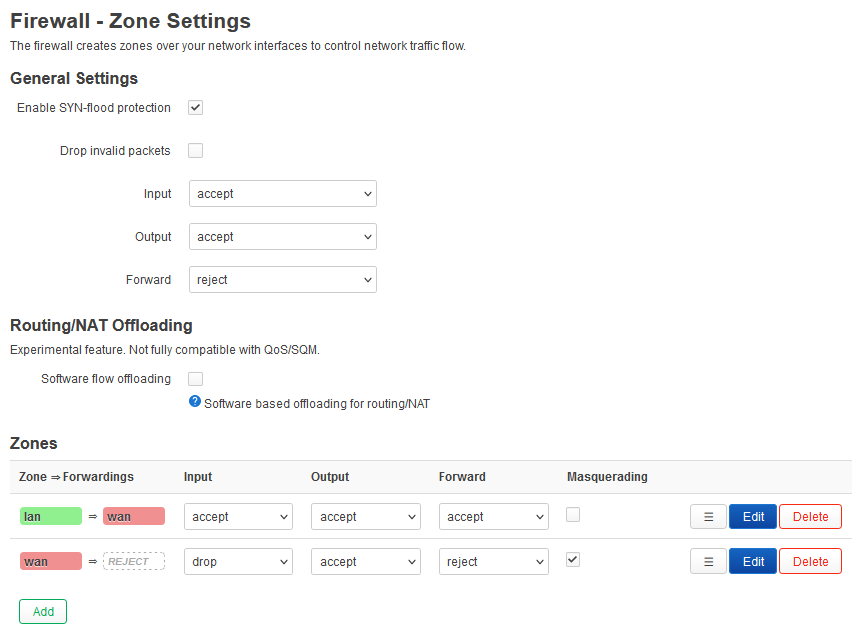 (adding more details in a sec, as a new user I'm limited in how many screenshots I can add to a post)
If there's something else that would be helpful to see in order to get a better idea of how to help me solve this, let me know and I'll add it to the thread. If someone can help me with these two items, I'd really appreciate it:
Figure out what I need to correct to stop undesired packet and port scans from making it through the OpenWRT appliance.
Adjust the logs so I can see that the OpenWRT device is actually catching this type of undesired traffic, if possible.