Needs:
3 zones: LAN, GUEST, and IOT
Wireguard should only connect to GUEST zone
Hardware:
Primary router = RPi4 to run SQM and Wireguard
AP = R7800 for dumb AP WiFi to allow wireless connections
Unmanaged Switch to allow connections of hard wired devices
I read some wiki articles but found this video to be helpful is getting the primary router setup. There is a part 2 video where he shows how to add the dumb AP but I cannot understand with the RPi4/I am confused over how to use VLANs in because the RPi4 does not have a switch in it
I setup the zones of LAN, GUEST, and IOT on the RPi4. Do I need these to be bridged or VLAN? How can I make this VLAN tagged he talks about with the switch on the RPi4?
My interfaces on primary router: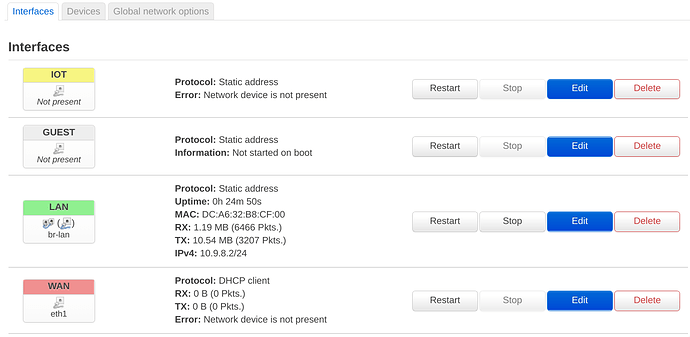 My devices on primary router: