First, please take a gander at the screenshot of what I'm trying to realize: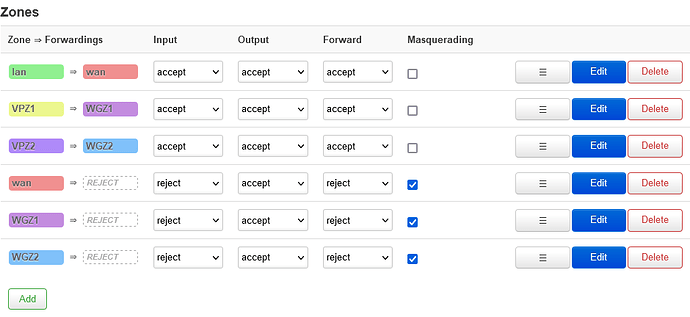 To summarize, I've three WAN zones:
self-explanatory wan
WGZ1: first WireGuard VPN connection
WGZ2: second WireGuard VPN connection
What I'm trying to accomplish here is, have different Ethernet ports provide access to either of the above connections separately, e.g. ports 1 and 2 connects to regular local WAN, port 3 (VPZ1) connects to first VPN and port 4 (VPZ2) to the second.
I honestly thought this would be a pretty straightforward setting, have different interfaces and have the firewall forward between them. But in practice, I found only one of the LAN zones actually gets to forward anything to the WAN zones. What am I doing wrong? Do I need to reshuffle the firewall rules, what needs to come first?
NB All the firewall forwarding configurations were done over LuCi, not SSH.