I found TFTP2.exe (https://openwrt.org/docs/guide-user/installation/generic.flashing.tftp#gui_tftp_clients) directly but it doesn't work. My Mikrotik is set to 192.168.1.1 (OR 192.168.1.2) and I set the same in the program, but it doesn't do anything.
Is there some setting on the mikrotik so that the boot from the tftp2.exe program works?
On pictures is adress 192.168.1.2 but i tried 192.168.1.1.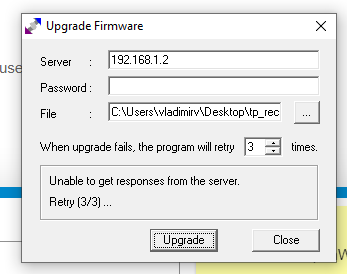 Are you running RouterOS6 or 7?
that one won't work, it doesn't seem to do what you need it to ..
there's a reason for why you were given a link.
if you think you know best, why ask in the 1st place ?
Did you disable the Windows firewall while using TFTP software?