Hello!
I´m about to revamp my network configuration (2 houses, repeater-bridge between them, 3 linksys wrt54gl, one Netgear R6400 and one d-link dir-882 running on dd-wrt).
Works really fine and stable, but because of the old devices not up to date and I have 4 different wifis.
My idea was to bring up a mesh network and also realize the the bridge between the 2 houses via mesh.
I am building up the network parallel to the old one, when working fine i will remove the old configuration.
I have 4 newifi-d2 devices here. All flashed with firmware OpenWrt 21.02.1 r16325-88151b8303
removed wpad-mini and wpad-basic
installed wpad-wolfssl
....
IP- Adresses are 10.0.0.1 to 10.0.0.4
First "problem" was that after flashing firmware, all 4 devices got the same MAC-Adresses, so i changed them manually.
"Main Device" and internet router:

second device:

Third Device:

After that i started bringing up the mesh network.
Problem is that connection breaks up sporadic if I only use two devices.
As soon as I power up the third device, the mesh breaks completely up and doesn´t really work any more (running ping doesn´t work any more, if working response time 2-8 seconds, packet losses,...). Already invested 10 hours of trying. Sometimes I can ping third device, sometimes not...
Ping looks like this: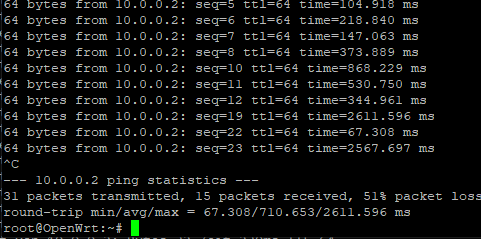 /etc/config/wireless is equal on all routers:

The "main-device" also recognizes the mesh-partners:

Does anyone have an idea what i did wrong?
Do you need further information about my config?
Thanks,
Philipp