I have installed openwrt to TL-MR6400 v5.3 with these instructions:
The installation goes ok but I can't access internet behind the WWAN from a LAN attached PC. The wwan gets ip address from ISP and shows it on the interface list as in the attached screenshot.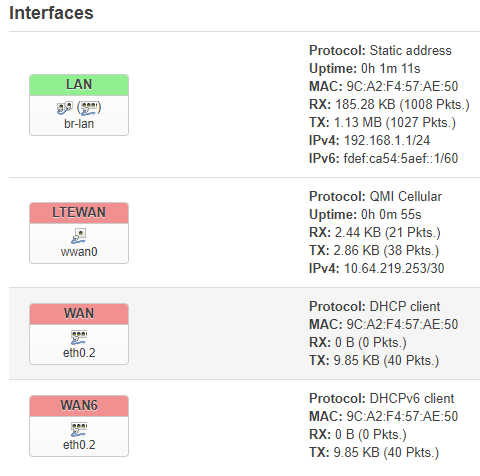 I have tried deleting the WAN and WAN6 interfaces but that does not help.
LTEWAN is added to the firewall wan zone.
I have a prepaid SIM card which doesn't get public ip address.
Could this be the reason to the problem?
Or is there something different in the V5.3 device?
I also tried with version 22.03.3 of openwrt (see below) but it has same issue.
What could be wrong?
Thanks for any help!
System
| Hostname | OpenWrt |
| --- | --- |
| Model | TP-Link TL-MR6400 v5 |
| Architecture | MediaTek MT7628AN ver:1 eco:2 |
| Target Platform | ramips/mt76x8 |
| Firmware Version | OpenWrt 22.03.3 r20028-43d71ad93e / LuCI openwrt-22.03 branch git-22.361.69894-438c598 |