Good day to all of you!
I converted my LinkSys WRT54GS v3.0 system from its original software to OpenWRT 19.07.0; setup the WiFi, and have confirmed that I can connect to it from computers and tablets. I cannot get it to connect directly to the internet. When I try connecting to one of the four ports on the Alcatel-Lucent I-240G-B unit provided by my ISP it does not achieve a WAN connection. If I connect it (by cable) to the ActionTec R1000H WiFi router provided by my ISP the WAN connection works fine. There is no advantage to me to run a WiFi network inside a WiFi network, I would really like to figure out how to get this router to work while connected to the Alcatel-Lucent box.
I confirmed that I do not have an address range issue; the ActionTec router is using 192.168.2.1. Just to be sure I changed the address range on the WRT54gs to be 192.168.3.1. It still will not connect to the Alcatel-Lucent box.
Here is the WAN Configuration screen from the ActionTec WiFi router provided by my ISP: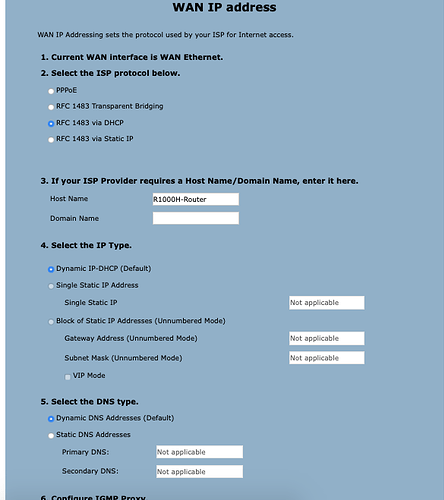 Also, configuring the IGMP Proxy is disabled and the Adjust MTU Settings is set to 1500.
Any assistance that you can provide that would help me get the WAN working on this Linksys WRT54gs v3.0 when connected to the Alcatel-Lucent box from my ISP would be greatly appreciated.
Quyndral