Hi All,
i am trying to understand new router i bought. It is Linksys WRT3200ACM. First thing i did was to flash OpenWRT so really do not know if it was the case in original software but on OpenWRT 19.07.04 i have 3 radios like in screen shot. I thought that router has only two the 2.4 and 5 GHZ. Here are my observations:
radio 0 - 5GHz - is the fastest (around 50MB/s while copying files on LAN)
radio 1 - 2.4GHz - is the slowest (around 5MB/s copying files via LAN)
radio 2 - 5GHz - is sort of medium speed (around 16MB/s while copying files on LAN)
Can anyone explain to me why my router has two 5GHz radios?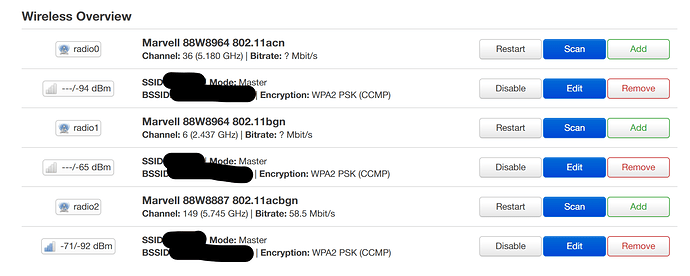 Thanks for any clues...