Hello
I'm trying to upgrade a bunch of devices based on Linkit Smart 7688 with the original installed version Chaos Calmer 15.05.1 to a newest version with Python 3 support.
My main problem has been the GPIO ports, I can't change them, because I need to keep the hardware backwards compatibility.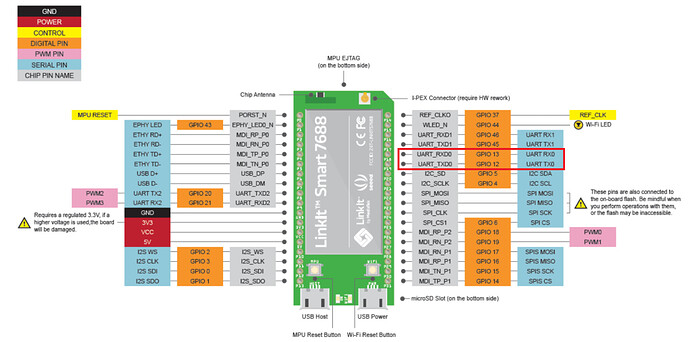 My first problem is in all the new versions I can't use the GPIO 12 and GPIO 13 because seems they are used by the UART 0. How can I disable the UART 0 or change it to a normal GPIO pins?
My second problem is when I tried with the version 18 and 19.07.8, I got the same GPIO pin map from the version 15 linked to the gpiochip0, gpiochip32 and gpiochip64.
But when I tried version 21.02.0, I got GPIO ports with numbers over 400 linked to the gpiochip416, gpiochip448 and gpiochip480.
I'm trying now to compile OpenWrt from the source code with all the packages that we need, but still I have problems with the GPIO pins. Where is the configuration file to maps the GPIO ports?
Thanks in advance
Jose