Hello guys!
This is a project I've been working on for a long time and now is in its final stage. However, I have some problems which I can't solve.
So this is simplified view of my network: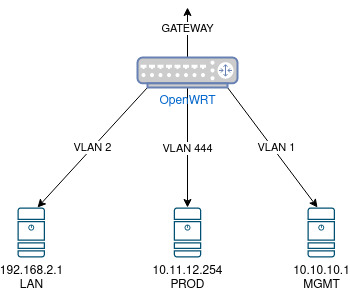 LAN segment includes my home net, my WiFi and some servers that will be used for testing
MGMT segment is used for management(switch, router, hypervisor) - there isn't default route, no connection to internet and can't be accessed from other networks.
PROD segment is for production VMs and it shouldn't have access to other networks as well as clients should not see each other. Their only way should the default GW.
Right now, clients from VLAN2 can see 10.10.10.1, but can't see 10.10.10.2 and so on.
Clients from VLAN1 can't see VLAN2. I can't seem to fix this issue.
As far as I read, for the production network, a bridge should be created for every client on the network.
As VLAN1, VLAN444 can be seen from other networks, which is not ok.
root@OpenWrt:~# cat /etc/config/firewall

config defaults
	option input 'ACCEPT'
	option output 'ACCEPT'
	option forward 'REJECT'
	option synflood_protect '1'

config zone
	option input 'ACCEPT'
	option output 'ACCEPT'
	option forward 'ACCEPT'
	option name 'lan_home'
	list network 'lan_home'
	list device 'eth1.2'

config zone
	option name 'wan'
	option input 'REJECT'
	option output 'ACCEPT'
	option forward 'REJECT'
	option masq '1'
	option mtu_fix '1'
	list network 'wan'

config forwarding
	option dest 'wan'
	option src 'lan_home'

config rule
	option name 'Allow-DHCP-Renew'
	option src 'wan'
	option proto 'udp'
	option dest_port '68'
	option target 'ACCEPT'
	option family 'ipv4'

config rule
	option name 'Allow-Ping'
	option src 'wan'
	option proto 'icmp'
	option icmp_type 'echo-request'
	option family 'ipv4'
	option target 'ACCEPT'

config rule
	option name 'Allow-IGMP'
	option src 'wan'
	option proto 'igmp'
	option family 'ipv4'
	option target 'ACCEPT'

config rule
	option name 'Allow-DHCPv6'
	option src 'wan'
	option proto 'udp'
	option src_ip 'fc00::/6'
	option dest_ip 'fc00::/6'
	option dest_port '546'
	option family 'ipv6'
	option target 'ACCEPT'

config rule
	option name 'Allow-MLD'
	option src 'wan'
	option proto 'icmp'
	option src_ip 'fe80::/10'
	list icmp_type '130/0'
	list icmp_type '131/0'
	list icmp_type '132/0'
	list icmp_type '143/0'
	option family 'ipv6'
	option target 'ACCEPT'

config rule
	option name 'Allow-ICMPv6-Input'
	option src 'wan'
	option proto 'icmp'
	list icmp_type 'echo-request'
	list icmp_type 'echo-reply'
	list icmp_type 'destination-unreachable'
	list icmp_type 'packet-too-big'
	list icmp_type 'time-exceeded'
	list icmp_type 'bad-header'
	list icmp_type 'unknown-header-type'
	list icmp_type 'router-solicitation'
	list icmp_type 'neighbour-solicitation'
	list icmp_type 'router-advertisement'
	list icmp_type 'neighbour-advertisement'
	option limit '1000/sec'
	option family 'ipv6'
	option target 'ACCEPT'

config rule
	option name 'Allow-ICMPv6-Forward'
	option src 'wan'
	option dest '*'
	option proto 'icmp'
	list icmp_type 'echo-request'
	list icmp_type 'echo-reply'
	list icmp_type 'destination-unreachable'
	list icmp_type 'packet-too-big'
	list icmp_type 'time-exceeded'
	list icmp_type 'bad-header'
	list icmp_type 'unknown-header-type'
	option limit '1000/sec'
	option family 'ipv6'
	option target 'ACCEPT'

config rule
	option name 'Allow-IPSec-ESP'
	option src 'wan'
	option proto 'esp'
	option target 'ACCEPT'
	option dest 'lan_home'

config rule
	option name 'Allow-ISAKMP'
	option src 'wan'
	option dest_port '500'
	option proto 'udp'
	option target 'ACCEPT'
	option dest 'lan_home'

config rule
	option name 'Support-UDP-Traceroute'
	option src 'wan'
	option dest_port '33434:33689'
	option proto 'udp'
	option family 'ipv4'
	option target 'REJECT'
	option enabled '0'

config include
	option path '/etc/firewall.user'

config redirect
	option target 'DNAT'
	option name 'transmission'
	option src 'wan'
	option src_dport '51413'
	option dest_ip '192.168.2.2'
	option dest 'lan_home'

config zone
	option name 'management'
	option forward 'REJECT'
	list network 'mgmt'
	option input 'REJECT'
	option output 'REJECT'

config rule
	option name 'a'
	option dest 'management'
	option target 'REJECT'
	option direction 'out'
	option device 'eth1.1'
	list dest_ip '10.10.10.1'
	option src 'lan_home'
	option enabled '0'

config rule
	option src 'management'
	list src_ip '10.10.10.2'
	option target 'ACCEPT'
	list dest_ip '10.10.10.1'