This is my setup
[ISP] -> bridged ISP router -> OpenWrt router -> [LAN]
Archer C7 flashed with prebuilt OpenWrt 19.07.4
The bridged router is in Dual Stack config with ipv4 and ipv6
My ISP hasn't officially announced native support for ipv6 but some of the users in my State are able to use ipv6.
The option Obtain IPv6-Address in WAN was set to auto which i think spawned an additional interface WAN_6 with no configurable option but was a DHCPv6 client
The WAN is pppoe connected and i am getting an ipv6 address with ipv6 pd , the problem is that i am not sure whether this means that i have ipv6 or is this some default thing that happens with dual stack config.
this is my config
Also WAN6 created on it own after I set the WAN interface, thus i have two DHCPv6 client, is this odd? or is it normal?
firewall configs are defaults haven' changed a thing
Nonetheless i am not able ping any ipv6 sites from Lan or even from the OpenWrt router,Zero packets are returned.
Traceroute from OpenWrt has just one Hop that i believe is kind of same as the ipv6 address of the DHCPv6 interface.
and traceroute from Lan has that one similar Hop, but with an ipv6 of the lan interface, with an additional Hop showing Destination Unreachable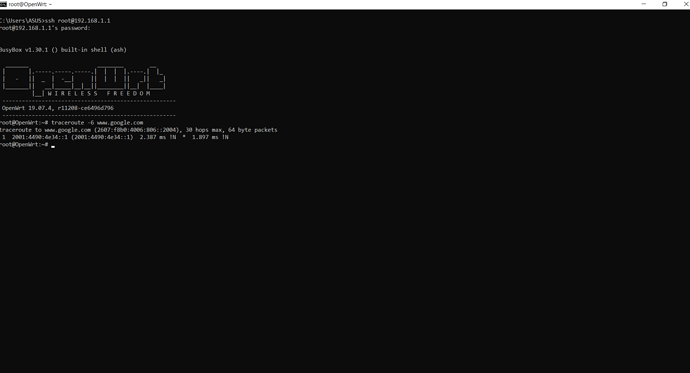 Things i have tired so far:-
in this article it mentions to set some traffic rules for ports 546 and 547
Tried to mess around some of the settings, but no luck
Manually created another DHCPv6 client and still no connection.
Is this a misconfiguration from my side or might this is be a problem on the ISP side even though i am getting ipv6 and a Delegated Prefix.
Does it need special configs and firewall rules to allow ipv6 in dual stack? or like I said is it a problem with my isp.
can provide additional details if need be;
any help appreciated, thanks in advance