So, after some investigation more focused to LuCI and UCI rather than kernel or hardware stuff... I found some interesting things.
Most configurations of 02_network plain don't work. I've destroyed my device's flash by trying so many configurations inside 02_network and almost none work out of the box (no wan traffic at all)
Applying the default switch settings (1: 4 3 2 1 0; 2: 5 0t) in UCI always fail. When you touch anything in vlan2 (even if you reapply the default setting) everything stops working.
Some findings (I cannot test further because I don't use VLAN)
Setting up port 5 as WAN does not work, the router cannot talk to WAN
Setting up port 5 as CPU (eth1) do not break the normal WAN functionality
Changing anything in vlan2, irrespective of the setting and the 02_network will break the normal WAN
Looks like double tagging is required both in CPU (eth0): 0 and CPU (eth1): 5
So, after a painful test from my part, I would like some people that use VLAN to test LuCI.
In order to make LuCI (and the users) to ignore VLAN2, it's important to add a configuration where all ports are "off" in vlan2.
It "should work" if you don't touch vlan2 and if you tag both CPUs (eth0 and eth1). It shows two eth1 devices but that is just to remember users to tag both (and also because eth1 is in fact ports 0 and 5 at the same time, according to my tests).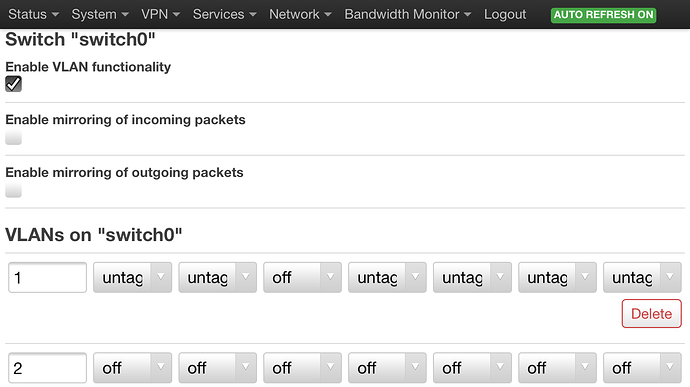 CPU (eth0) | CPU (eth1) | CPU (eth1) | lan1 | lan2 | lan3 | lan4