I can't find the difference between this 3 images for X86, any knowledge would be appreciated.
[https://downloads.openwrt.org/releases/18.06.1/targets/x86/generic/]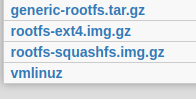 Neither of those.
You basically have the option to decide between:
combined-ext4.img.gz
combined-squashfs.img.gz
Unless you have specific reasons to prefer the ext4 variant, the squashfs one would be recommended, as it allows factory resetting/ recovery (the ext4 image is completely writable, if you break it, it stays broken without a failsafe mode).
The rootfs images are just that, the split out rootfs (without kernel or bootloader), while there are use-cases for these, they're not usable as-is.
This topic was automatically closed 10 days after the last reply. New replies are no longer allowed.