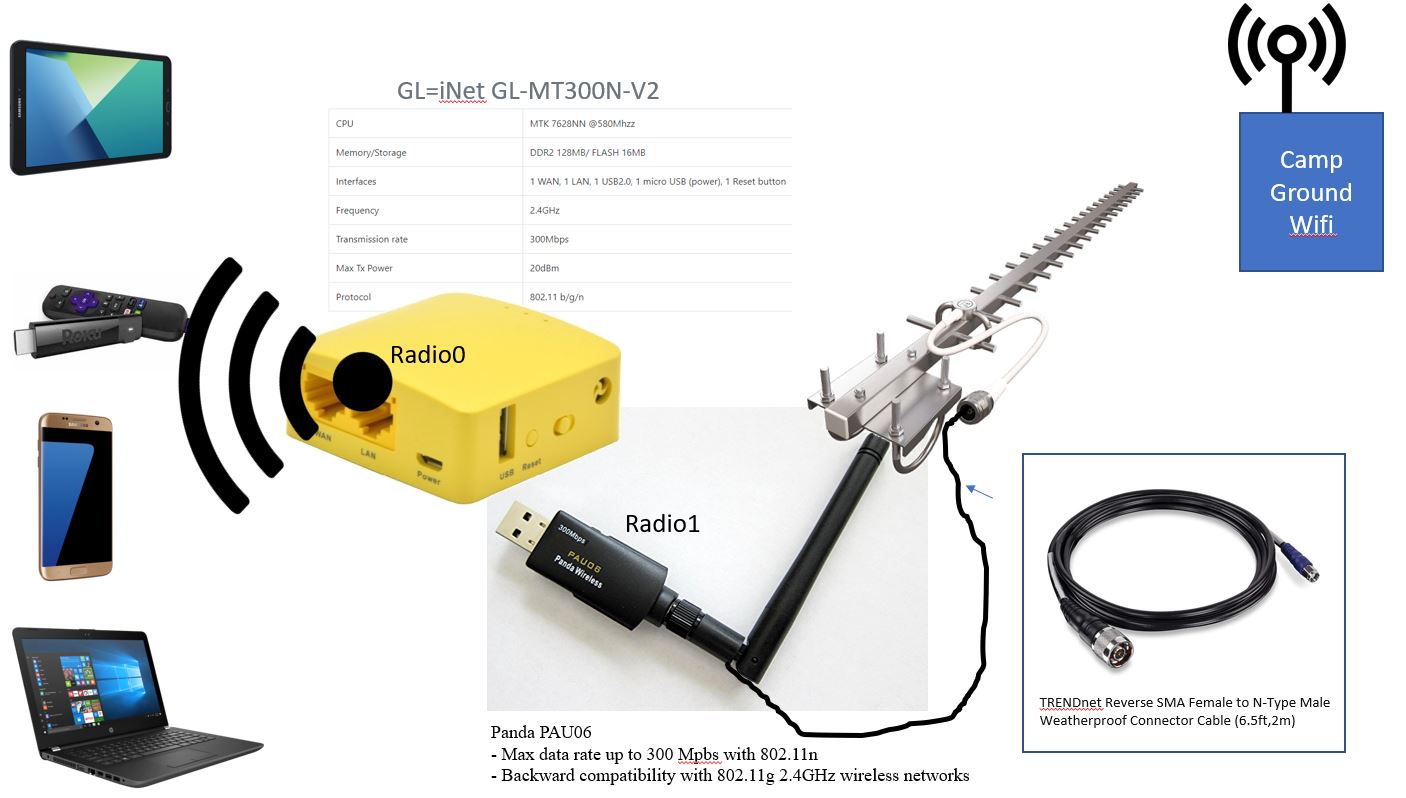 I'm trying to build a repeater for use in an RV (Recreational Vehicle).
Everything is working; however, it is way too slow.
Here's the speeds and below I'll discuss the steps to reproduce them.
(RX/TX is the order) I have a 120 Mbps down and 12 up so the Maximum is 120/12.
Ethernet WAN & Ethernet LAN: 95/11
Ethernet WAN & Radio0 LAN: 77/11
Radio1 WAN & Ethernet LAN: 50/11
Radio1 WAN & Radio0 LAN: 2/11 <--- This is what I actually need.
Here's what I've done so far:
Fresh install of openwrt-18.06.1-ramips-mt76x8-gl-mt300n-v2-squashfs-sysupgrade.bin

Test 1 done.

Configure laptop to use OpenWRT open WIFI.

Test 2 done.

Install kmod-rt2800-lib, kmod-rt2800-usb, kmod-rt2800-mmio

Install PAU06 USB radio

Configure Radio1 to use house WiFi (SSID OurHouse). (replace current wifi config on Radio1)

Rebooted

Test 3 done.

Removed LAN cable.

Test 4 done.
I know the house WiFi is solid because I get 110/11 on my laptop directly.
I didn't change ANYTHING ELSE in an attempt to figure out what is slowing it down.
Can you think why OpenWrt would be 25-50x slower doing WiFi to WiFi?
I want to eventually roll TravelMate into this, but not until I figure out this performance puzzle.
Thanks,
Ryan