After purchasing some managed switches to be able to better segregate my LAN into several segments, I thought about how I could smoothly transition from 1 LAN (on eth0) to a trunked driver-level VLAN solution, where all internal segments are still coming in through eth0, but are tagged, and the managed switch attache to eth0 then takes care of what port is assigned to which VLAN.
I thought I could create new interfaces for the additional (new) segments, using eth0.x1..xn as interfaces for them.
For migrating the existing LAN on eth0 I thought I could just but eth0 into bridging mode together with eth0.1 (where x1..xn are >1 !), i.e. I have not created a new seperate interface on eth0.1
I though after introducing all firewall rules I could then just remove the bridge on eth0 / eth0.1 and only use eth0.1, leaving eth0 out.
Note that my patform has only separate ethernet interface and they are not switched, so there will be used driver-level VLANs.
So I did this: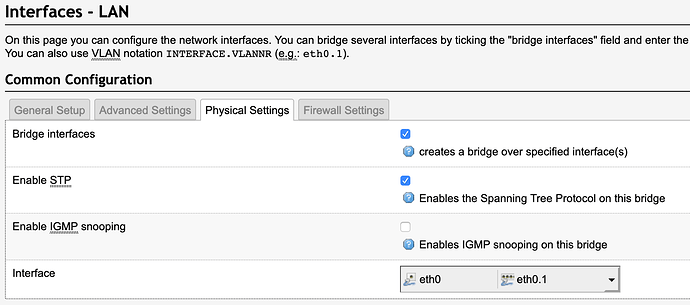 And the network came to a screeching halt.
Bummer!
I had to remove "eth0.1" from the LAN interface using the console and reboot to be back in business.
Obviously I did not fully understand what I was doing.
Would someone care to give me a hint why this did not work?
And what would be your proposed smooth migration path?
Current setup: openwrt eth0 attached to cascade of cheap unmanaged switches, carries only LAN
Desired setup: openwrt eth0 attached to cascade of decent managed switches, carries VLANS for LAN, VOIP, IOT, GUEST, WHATNOT in a trunked fashion
I assume there are decent guide articles on this already, I am just not aware of them. Everything I found talks about setting up VLANs on switched interfaces on the router platform, and not about driver-level VLANs.