Hi.
I have OpenWRT router (NanoPi R4S). I am using OpenWRT 21.02.
Device has 2 ports (devices) -> eth0 (wan) and eth1.
I am using R4S as a router connected to ISP optical modem/router (ISP modem is in "half bridge" mode). I receive untagged traffic from ISP.
R4S will connect to the smart-managed switch. I want to have 5 vlans (vlan5-vlan9).
I want managed switch to have ip address from vlan5.
How can I configure bridge device br-lan --> "Bridge VLAN filtering" correctly?
a) all untagged
b) all untagged, vlan5 PVID
c) all tagged
d) all tagged, vlan5 PVID
e) vlan5 untagged, vlan6-9 tagged
f) vlan5 untagged PVID, vlan6-9 tagged
g) vlan5 tagged, vlan6-9 untagged
h) vlan5 tagged PVID, vlan6-9 untagged
i) something else?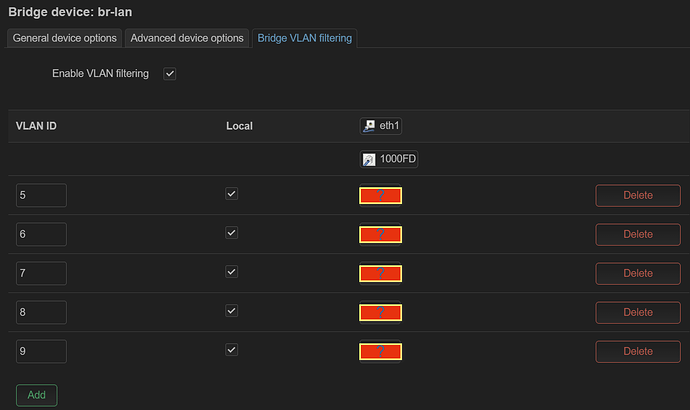 Can someone please also explain correct choice (I watched multiple videos and read wiki and forums but I am still really struggling with this).
Second question: after this change, should I change device on my Interface LAN?
Currently is using device br-lan and has IP + DHCP server (default setting).
Will this work after I add VLANs or should I change Interface Device to new device (VLAN)?