Cake is leaving me out of options. On the one hand I'm not an advanced user and should use "conservative" to be safe. But on the other hand my Internet speed is slow, 10Mbps download and 0.5Mbps upload, it would be a shame not to configure Cake to get the most out of my bandwidth, especially my upload speed.
By far I think that the settings I currently use are not bad, but I still have problems playing online games, especially in games like Valorant. Which inclines me to think that I'm doing something wrong.
The problem is that my understanding of the subject is limited. I'm currently using the following configuration parameters:
Egresss: bandwidth 637000 rtt 200ms diffserv4 dual-srchost nat bridged-llcsnap ether-vlan ether-vlan ack-filter
Ingress: bandwidth 12544000 rtt 200ms diffserv4 dual-dsthost nat bridged-llcsnap ether-vlan ether-vlan ingress
bandwidth: I selected 637Kbps and 12544Kbps because according to my ISP's modem they are the actual data rates of my upstream and downstream respectively.
rtt 200ms: I selected an RTT parameter between "Internet" and "Oceanic" because I usually play online games with people from other countries and my RTT is usually between 100ms and 150ms.
diffserv4: I selected diffserv4 because my householders usually watch streaming services but I'm unsure if it's the best stream isolation parameter for my use case considering my Egress bandwidth.
bridged-llcsnap: I selected "bridged-llcsnap" because:
a) My modem is set to bridge mode.
b) According to my modem information, my internet is in "ADSL Annex A" mode and uses "ATM" technology.
c) I researched the Internet and found an article that mentioned the word "LLC" once when talking about my ISP's DSL lines.
d) The "pppoe-llcsnap" parameter is the only one that causes the least problems. In theory "bridged-llcsnap" in conjunction with 2 "ether-vlan" should be equivalent to "pppoe-llcsnap".
ether-vlan ether-vlan: I repeated this parameter twice because my RTT ramps up otherwise and the Manpage indicates that some ISPs use up to 2 of these.
ack-filter: I selected "ack-filter" because my connection is asymmetric but I'm not sure if it should also be selected in my Ingress parameters.
ingress: I selected "ingress" in my Ingress parameters because a guide on the OpenWRT forum recommended doing so.
I'm a new user so I can only upload one image. This is a screenshot of my ISP's modem that contains information that may be relevant and that I have not yet shared here: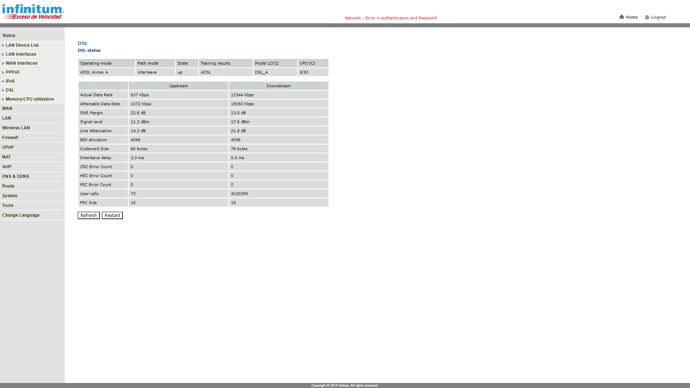 Thanks for all of your help.